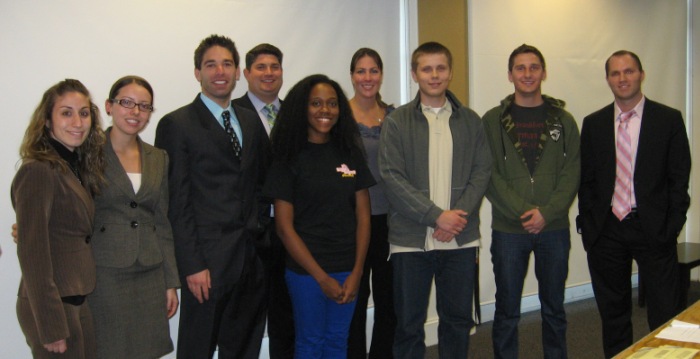 Pictured above (from left): Judges Cristina Modifica, Carolina Gomez, Jason Nass and David Totaro; student Wynette Rene; judge Jaime Baccarella; students Karolis Matulis and Robert Himmelman; and judge Daniel Hartman.
PricewaterhouseCoopers launched the xTREME Games in 2002, to increase students' exposure to professional services and the world of public accounting. Since then, the games have grown substantially with over 85 schools involved, more than 3,000 teams comprising 15,000 participants, and 1.5 million in prize money awarded. For more information about the xACT and xTAX challenges, see: PwC xTREME Games.
This year a record 45 TCNJ students formed 9 teams to compete in the xACT challenge, which models real-world decision making and gives students the opportunity to work through some of the same issues that challenge today's business and government leaders. PwC judges included: Project Leads Cristina Modifica and Carolina Gomez; Campus Recruiting Manager Jaime Baccarella; and TCNJ alumni Jason Nass '05, David Totaro '99 and Daniel Hartman '02.
The $1,000 first prize for the top TCNJ team went to Team KWMRE Consulting, whose members include finance/biology freshman Ethan Sooy; accounting sophomores Wynette Rene and Karolis Matulis; accounting junior Mark Medernach; and international business senior Robert Himmelman. Team KWMRE Consulting's presentation tape will be submitted for consideration in the national finals.
Hossein Nouri, professor of accounting, served as the advisor for the event.
"The xACT competition was as a great way to strengthen our team building skills. Coming together as a group of strangers, we were presented with a problem and were required to tackle it. Harnessing everyone's unique strengths enabled us to think outside the box. Coming out on top was great, but in the end it was just about having fun." ~ Rob Himmelman