For the second year in a row, a TCNJ business student won the Pi Sigma Epsilon Pro-Am-Sellathon, a role play competition, at the regional conference held at William Paterson University on November 20th. Paul Nichilo, a senior professional selling minor and president of the TCNJ PSE chapter, came in first in the competition. Four of the six finalists in the competition were TCNJ students. They were Sarah Gotthold (senior, marketing), Jenny Green (sophomore, marketing), Kelly Loughlin (junior, marketing), and Paul Nichilo (senior, interdisciplinary business.) Fifty students from Northeastern schools competed. The schools are University of Connecticut, William Paterson University, University of Buffalo, University of Albany. Cornell University, CUNY-Baruch College, TCNJ, Pennsylvania State University, Widener University, Northeastern University, and St. Bonaventure University. Last year, Jill Daidone, currently a senior marketing major, won the competition.
Corporate sponsors included Kodak, Northwestern Mutual Insurance, University Directories, Miller Heiman, Heartland Payment System, and Vector Marketing Corporation.
Al Pelham, the PSE faculty adviser, coached students from other universities and acted as a buyer for non-TCNJ students competing in one of the buying rooms. Nichilo, TCNJ's chapter president, remarked: "On behalf of the entire organization, we would like to extend a very special thank you to Dr. Al Pelham, who works endlessly to ensure that all of us are prepared to achieve our greatest potential as a chapter and as individuals. We really couldn't have done it without you!"
Dean Keep acknowledged the commitment of these students as well as their professors, saying: "We celebrate our students' efforts to combine theory and practice. Role playing at the Pro-Am-Sellathon requires a student to think fast and communicate effectively — two skills that never go out of style in business. To have a TCNJ student take the top spot for the second consecutive year, with another three among the remaining five finalists, speaks to the motivation and hard work of our students and the faculty who work with them."
See press release: TCNJ business student wins Sellathon competition for second straight year.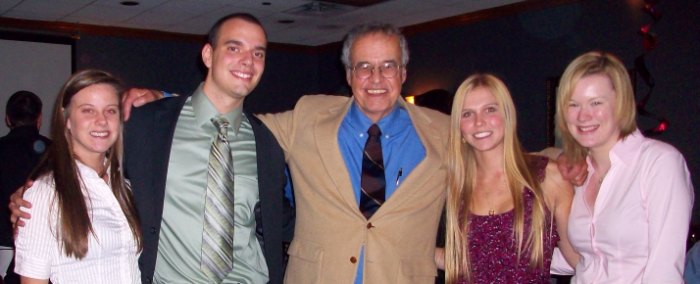 Pictured above, from left: Sarah Gotthold, Paul Nichilo, Dr. Pelham (advisor), Jenny Green, and Kelly Loughlin.
"The Pi Sigma Epsilon Regional Conference was a valuable, exciting experience. The conference helped motivated and intelligent students expand their professionals skills, as well as create relationships with prospective employers and other PSE organizations in the region." ~ Sarah Gotthold '11
"The PSE Regional Conference was a very exciting and rewarding event for me and the chapter as a whole. It is amazing to be rewarded for success and hard-work within the competition, but the greatest reward for me has been overseeing an organization that is always striving to be the best. We have built a name and reputation for ourselves not only on campus, but across the entire country, and it is great to see that schools three times the size of the College of New Jersey worry when they see us at these competitions." ~ Paul Nichilo '11
"I learned so much about sales through this experience and am proud of every PSE member that competed, especially Paul. We represented TCNJ, and ourselves, in such a positive manor and I think I can speak for everyone when I say we're excited to compete in Nationals this year." ~ Kelly Loughlin '12