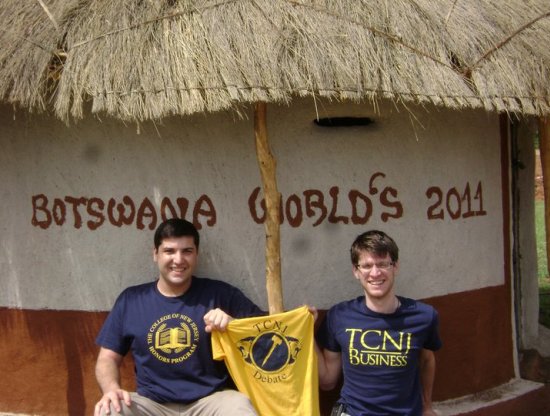 Above, TCNJ Debate members: Christopher Gibson (l), senior accounting major, law, politics, and philosophy minor and Ethan Sooy (r), senior finance & biology double major.
This Winter Break (2010-2011), The College of New Jersey Society for Parliamentary Debate represented TCNJ at the World University Debate Championships.  Including over 1,200 participants from nearly 400 teams and representing over 60 different countries, the event has been referred to as 'The Olympics of Debate' (Christian Science Monitor, 01/04/2011 ).  This year's tournament was hosted by the University of Botswana and constituted one of the largest events in the nation's history.  During the competition, TCNJ made strong contributions to the American Caucus which consisted predominantly of members of the American Parliamentary Debate Association, including students from Yale and Princeton.  A respectable showing for their first attendance at the tournament, the TCNJ team earned 11 points in the preliminary rounds – equal with teams from Cornell, University of Pennsylvania, St. John's College and Melbourne.  TCNJ outperformed other American schools including the delegations from Smith College, US Air Force University, and Franklin & Marshall College.  Overall, the tournament was won by Monash University of Australia.  TCNJ Debate plans to attend this tournament again next year in Manila, Philippines and in Berlin, Germany in 2013.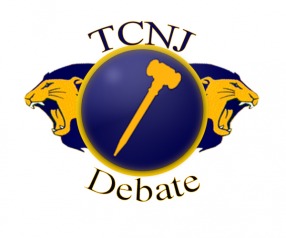 The Debate Team receives funding from the Student Finance Board and the School of Culture and Society, and for the World Championship received grants from the School of Business, the Center for Global Engagement, the Honors Program, and the Admissions Department.  The TCNJ Debate team meets regularly on Tuesdays and Thursdays at 7 PM in the Social Science Building and attends national tournaments; the next tournament is at NYU the weekend of February 4-5.  For more information students can email the club at tcnjdebate@gmail.com or visit the TCNJ Debate Facebook page or website http://tcnjdebate.weebly.com/.