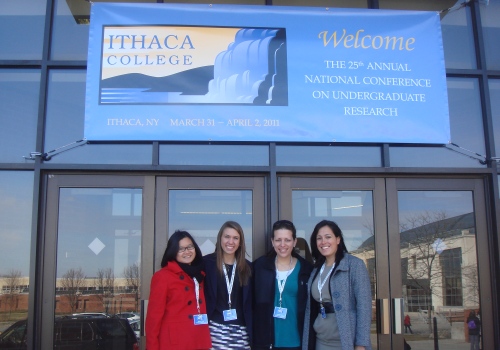 Above (left to right):
Tiffany Teng (sophomore, english/international studies), Allison Gutkowski (sophomore, interdisciplinary business), Danielle Diglio (senior, communications w/marketing minor) and Helena Mannarino (senior, economics/sociology)
Eight TCNJ students were chosen from colleges and universities across the country to present their original research at The National Conference on Undergraduate Research at Ithaca College, in April. The seven students who attended were among 3,000 participants at this unique celebration and promotion of interdisciplinary undergraduate student achievement.
This year's presentations include:
Danielle Diglio and
Helena Mannarino
Food Product Health Claims – Helpful or Hindering?
Allison Gutkowski
Aspects of Luxury Advertising, Specifically Color
John Loyer
The Effect of Wal-Mart on Residential and Commercial Property Values: Evidence from New Jersey
Kara Moynihan
Go Ahead, Make Me Feel Bad: Investigating the Model—Product Paradox
Andrea Ortu and
Meaghan Vitale
Do Food Stamps Make People Obese? Food Stamp Duration and Allotment over a 12-Year Period and Body Weight and Obesity among American Adults
Tiffany Teng
Non-Profit Organizations' Licensing Effect in Volunteering and Donations
Although he was unable to attend the proceedings, Marcelo Rivera's paper "Are Religious People Healthier? An Investigation of Overall Health and Morbidity Conditions of the Adult Population in the US Against Measures of Religiosity," was also accepted.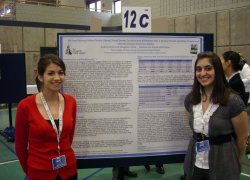 At left, seniors Andrea Ortu (political science) and Meaghan Vitale (economics & secondary ed) presenting their original research at NCUR in Ithaca, NY.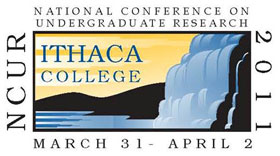 About NCUR: The National Conferences on Undergraduate Research (NCUR), established in 1987, is dedicated to promoting undergraduate research, scholarship, and creative activity in all fields of study by sponsoring an annual conference for students. Unlike meetings of academic professional organizations, this gathering of young scholars welcomes presenters from all institutions of higher learning and from all corners of the academic curriculum. Through this annual conference, NCUR creates a unique environment for the celebration and promotion of undergraduate student achievement, provides models of exemplary research and scholarship, and helps to improve the state of undergraduate education.