TCNJ's Pi Sigma Epsilon Sales/Marketing/Management Fraternity Wins at 2011 National Competition
For immediate press release: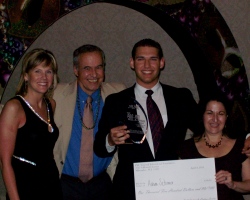 On April 2nd, Adam Schumer, a TCNJ junior marketing major from Gillette, N.J., won first place in a sales role play competition at the Pi Sigma Epsilon national convention held at Orlando, Florida. The first prize was $1500 and a $1000 Tom James custom business suit.
"Put simply: winning the Pro-Am-Sell-A-Thon was the most pleasant surprise I've ever experienced in my life," Schumer said. "I feel that this victory not only significantly transforms my life, but will substantially inspire our chapter's members to go above and beyond previously set expectations."
Jenny Green and Sarah Gotthold, also marketing majors, were among the finalists. Eighty competitors from one hundred PSE chapters were selected to compete in this Pro-Am Sell-a-Thon competition. Students competing were provided a selling scenario where they were to probe for the needs and problems of a bank selling CDs then persuade the bank executive to enlist the services of the student's advertising agency, replacing TV with print media. Students were coached prior to the competition by their chapter's faculty advisor and executives from the firms recruiting students at the career fair. In addition to this coaching, TCNJ competitors also received coaching from their faculty advisor, executives from Guardian International Planning Alliance, and Allen Sorianno, a TCNJ alumnus and first president of PSE's TCNJ chapter two years ago.
In addition to this achievement, TCNJ students won first place at the regional conventions for two years in a row. Paul Nichilo won first place in the fall of 2010 and Jill Daidone won first place in the fall of 2009.
TCNJ students competing in the PSE Sell-A-Thon were Jenny Green (VP, Administration), Sarah Gotthold, Adam Schumer, Matt Nugent, Paul Nichilo (President, 2010-2011), Dan Lisi (VP, Public Relations), and Kevin Rutz (President, 2011-2012). At Friday's banquet, Kevin Rutz was chosen to sing the national anthem. Christina Mendoza, Lindsay Gardiner (VP Human Resources), Brett McCaffery, and Nicole Mazer competed in a marketing plan competition requiring analysis of a case involving Geico Insurance and the presentation of their recommendations.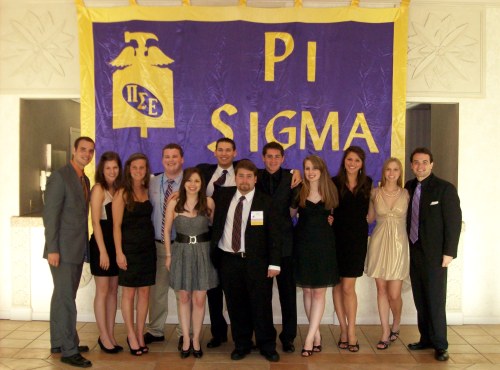 TCNJ's Pi Sigma Epsilon team from left to right: Paul Nichilo, Chapter President, Jill Daidone, Sarah Gotthold, Matt Nugent, Christina Mendoza, Adam Schumer, Daniel Lisi, Brett McCaffery, Lindsay Gardiner, Nicole Mazer, Jenny Green, and Kevin Rutz, President-elect 2011-2012.
Junior Kevin Rutz was invited to sing the national anthem at the competition's banquet.
After the electrifying victory for Schumer, TCNJ patiently but anxiously waited for the Lloyd L. Antle Top Chapter award. This award honors Amethyst-ranked chapters who have excelled in all areas of chapter operations, including recruitment, projects, fundraising, community involvement, and philanthropy. After hearing that Purdue University was the first runner up, the TCNJ Zeta Zeta chapter was selected as the recipient of this award. All twelve TCNJ members attending went up to the stage and claimed the trophy. Allen Soriano, an alumni advisor and founder of the PSE at TCNJ, was ecstatic, calling this moment "one of the best of his life," commenting on the growth and progress the chapter has made since his graduation. The TCNJ PSE chapter also competed for the most improved chapter and the Top Faculty Advisor award.
Dr. Al Pelham, the faculty advisor attending the event, commented: "The accomplishments of the TCNJ PSE members provide evidence on the incredible quality of our students. They far exceeded the standards that I set for them. They passionately worked to hone their skills and worked diligently to improve all of the areas of chapter management."
"I am absolutely thrilled that we have succeeded in Orlando and I see this as an opportunity for more members to adopt their own projects and motivation to improve the chapter," President-elect Kevin Rutz said. "We've come a long way with the help of Dr. Pelham and good hard working people."
A career fair was an important part of the PSE national convention including firms such as Northwestern Mutual Financial Network, Enterprise Rent-a-Car, 3 M, EcoLab, Tom James (executive attire), Federated Insurance, Kodak, Abbot, Hershey's, AT&T, Johnson and Johnson (Ethicon Endo-Surgery), and Geico.
Other NorthEast universities with PSE chapters competing at this convention included University of Connecticut, Widener University, and William Patterson University.
Pi Sigma Epsilon is a national sales and marketing co-ed fraternity with more than one hundred chapters throughout the United States. The fraternity encourages all students to join regardless of major. In addition to the selling and case analysis competition, PI Sigma Epsilon also offers the following competitions: public speaking, public relations, an entrepreneurial simulation, scholarship, chapter management, and video production. TCNJ's Zeta Zeta chapter was established in the 2007-2008 academic year and has grown from three members to thirty five today. The club is seeking more members from all majors to continue to accomplish its goals.
In addition to his duties as the chapter's faculty advisor, Dr. Pelham acted as one of the buyers in the sales competition. He also presented a paper at the National Conference in Sales Management, which was a partner with the PI Sigma Epsilon conference. The paper compared the opinions of professors, sales managers, and sales trainers as to the importance of subjects for an advanced professional selling course.
Guardian International Planning Alliance, Automatic Data Processing, and Teksystems sponsored students competing at the PSE convention in addition to supporting the TCNJ Professional Selling Minor program. Many PSE members are also Professional Selling Minors. The TCNJ Business School is one of only thirty five (of 1300 accredited business schools) in the U.S. with a sales program offering at least three courses. One study found that graduates of these programs have significantly higher job placement rates, starting salaries, and job performance results, compared to other students.
Read about PSI's accomplishments this past year, at the RBI National Sales Challenge, the Regional Pro-Am-Sellathon, and the National Collegiate Sales Competition.
---