3rd Wednesday: Personal Finance – April 18, 2012
More than 60 students attended this very informative program with USEFUL information, for young people moving out into their first careers. Panelists discussed issues such as choosing the best health benefits package; when and how to buy life insurance; and establishing a solid foundation now, in order to build wealth later. This program was sponsored by the Dean's Advisory Council and co-sponsored by Delta Sigma Pi.
Moderator: James DelMasto '08, MetLife
Panelists:
Brian McGrath '00 – Brown & Brown Consulting
Steve Miller – Northwestern Mutual
Keith Soltis – Creative Financial Group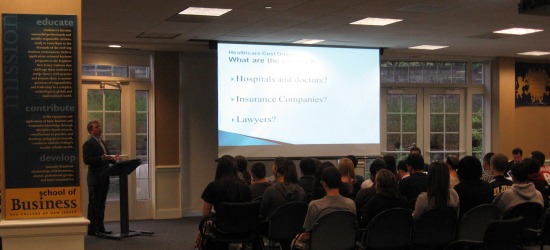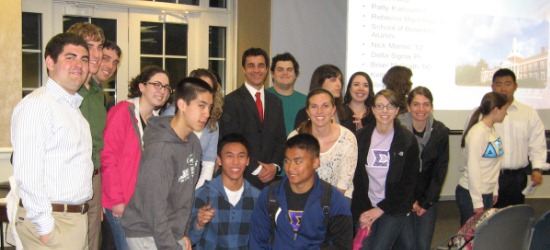 Above: James DelMasto '08 (center) with Delta Sigma Pi brothers
---

"Addressing Gender Perceptions in the Workplace: Communication, The Glass Ceiling, Mentoring, Management Styles and Life/Work Balance"
Wednesday, March 21 – co-sponsored by Phi Beta Lambda.
Moderator: Rebecca Machinga '92, Partner @ WithumSmith+Brown & Chair of the Dean's Advisory Council.
Panelists:
Theresa Richardson of WithumSmith+Brown
Kellie Miller '01 of L'Oreal
Morayea Pindziak '99 of Harte-Hanks
John Martin of Princeton University
---
"Demystifying Sales" – February 15
Break through the stereotypes of sales jobs and learn about exciting and lucrative opportunities from TCNJ alumni and sales professionals. Sponsored by the Dean's Advisory Council; co-sponsored by Pi Sigma Epsilon. The 3rd Wednesday Program is open to all TCNJ students; refreshments provided.
Read about this event in The Signal: Salespeople give tips on succeeding in business
Moderator: David Gabauer '04, Risk Management Consultant & Commercial Broker, Rue Insurance
Panelists:
Conrad Chan, Sales Manager, Central NJ, AT&T
Kellie Miller '01, Key Accounts Manager, L'Oréal Paris
Steve Schumer, Global Sales Enablement Leader, Strategic Outsourcing, Global Technology Services, IBM Corporation
With: Al Pelham, TCNJ Professor of Marketing
---
Fall 2011 3rd Wednesday Programs
Three times each semester a panel of alumni meet with students on "3rd Wednesdays" to talk about business and careers. The 3rd Wednesday Program is sponsored by the Dean's Advisory Council, and coordinated by Council Chair, Rebecca Machinga, Partner at WithunSmith+Brown.
During the first event last fall, "Nailing the Interview," alumni shared experiences both as interviewees and interviewers. Students learned from experienced professionals how employers view the process and how to make a positive first impression. The following month students learned from a group of alumni about "Preparing for Graduate or Law School." Each year 10-15% of our students make the decision to continue into a graduate or law program. Our final event of Fall 2011 drew over one hundred students and dealt with the topic of living or traveling about. Entitled "London Calling," this evening featured two alumni joining in real time via Google – Video Chat, one from India and the other from Brazil. Students enjoyed hearing how traveling abroad and be personally and professionally enriching.