The College of New Jersey Main Commencement Ceremony
Congratulations to the class of 2012! View photos of TCNJ's 2012 Commencement Program in TCNJ Magazine.
The School of Business Commencement Program
During the School of Business Ceremony, which took place in the Rec Center immediately after the College-wide program, Dean William W. Keep (left) welcomed faculty, graduates and their friends and family.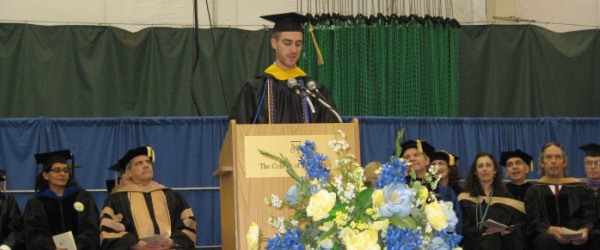 Above, marketing major Daniel Zane addressed the senior class, before the presentation of awards and diplomas by the faculty of each respective deaprtment.
---
Beta Gamma Sigma Faculty Awards
In addition, officers of Beta Gamma Sigma – the honor society for AACSB accredited business schools – presented the second annual BGS Faculty Awards which recognize professors who have made a profound impact on the student body, as voted on by the entire senior class in the School of Business. Here are the award recipients along with a sampling of student comments:
Professor Buddy Mayo: The Award for Teaching Style that Created the Most Engaging Learning Environment
"I can honestly say he has motivated me to work harder. I believe he genuinely wants the best for all the students and is always willing to help in any way he can."
Professor John McCarty: The Award for Advising and Mentorship, Affecting Personal Growth & Academic Development
"He addressed many scheduling issues that I had and was very willing to discuss my academic and career goals… I greatly appreciate the help and insight that he provided throughout my college career"
Professor Kevin Michels: The Award for Passion for Business ~ Most Inspirational
"One of the most passionate and engaging professors in the School of Business. Professor Michels fosters an environment in which discussion about real world experiences takes center stage. […] Professor Michels is extremely passionate about business and the law and makes class fun. His classes are some of the most interactive experiences this college offers!"
---
We encourage all business alumni to stay in touch, and join our School of Business Alumni Group on LinkedIn, for news about alumni events such as the Alumni Networking Night at the Princeton (Rt. 1) Salt Creek Grille on Sept. 20th!

Join the School of Business Alumni Group
---