London Calling: Go Global!
Part of the Dean's 3rd Wednesday Program, students and alumni joined us on Nov. 19th for an insightful and frank discussion of living overseas on a long-term business assignment. Professor Pam Kravitz and TCNJ students Davis Craig & Brian Kremenich SKYPED in from Heidelberg (where they are spending the fall semester), to join our alumni panel discussing international business practices.
Among other topics, panelists addressed the key rewards/benefits in working abroad, the skills/attributes employers look for, and the cultural awareness they developed as well as some of the social/family issues they experienced abroad.
Moderator – Greg Kubikowski @ EisnerAmper
Dave Totaro '99 @ PricewaterhouseCoopers
Matt Johnson '06 @ Morgan Stanley
Via SKYPE: Dave Lewis '98 formerly @ Coca Cola, currently founder off d!fferents – in Rio De Janeiro, Brazil
Via SKYPE: Matt McCann '08 @ Goldman Sachs – in India
Sponsored by the Dean's Advisory Council; co-sponsored by the International Business Association and Phi Beta Lambda.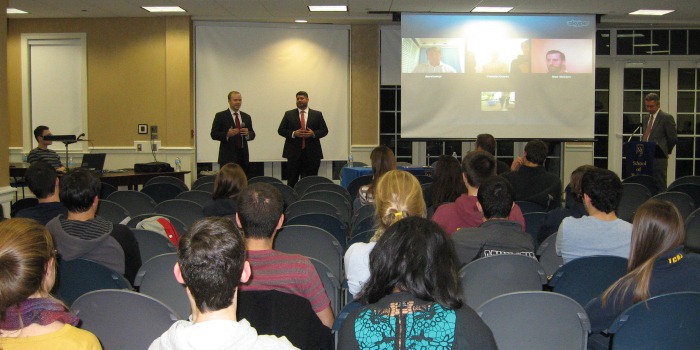 Standing (l-r) Matt Johnson and Dave Totaro, with moderator Greg Kubikowski at the right.