"It's funny looking back and remembering all of the times I told people I was going to work at Disney World someday." That's Dylan Catania, a junior finance major interning at Walt Disney World (Orlando, FL) through the company's Disney College Program (DCP). "It still feels surreal!" Dylan began the internship on June 15 of this year, and will be finishing on January 13, 2022.
Dylan's love for Disney can be traced back to the fourth grade, when he, along with his mom and sisters, visited Walt Disney World. During their stay, they met up with a close family friend who was participating in the same program and piqued young Dylan's interest. "Once I was in high school, I did a ton of research on the DCP and figured out how and when to apply," said Dylan.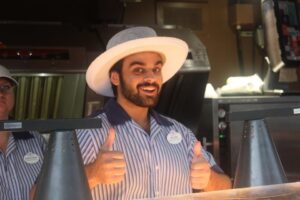 Dylan's plans were put on hold, however, with the arrival of the COVID-19 pandemic in early 2020, during his first year in college. Thankfully, Disney resumed the DCP in 2021, and Dylan applied right away. "I was accepted two days after I applied, and only had three weeks before I had to fly from Newark to Orlando," said Dylan. "It was a very stressful and expedited planning process, but my family was very supportive throughout. I wouldn't have been able to do it all without them."
Now six months into the program, Dylan has had the pleasure of working in two of the "vacation kingdom's" theme parks: EPCOT and Magic Kingdom. "The first five months of my program were dedicated to helping operate the wonderful festivals at the World Showcase in EPCOT," said Dylan, adding that EPCOT is his "personal favorite park." These festivals included the park's hugely popular Flower & Garden Festival and Food & Wine Festival. "I primarily dealt with food service, working with the culinary team, and helping guests navigate the park," said Dylan. "As someone who is very adventurous when it comes to food, it was a delight making recommendations to those who needed tips." After the festival season, Dylan was then transferred to the Magic Kingdom, where he worked as part of the merchandise staff on Main Street, U.S.A. "In the last month and a half of my program, I've become a designer clothing salesperson, a hatter, and a confectioner!"
Of course, taking part in the DCP isn't all fun and games. In addition to this credit-bearing internship, Dylan is also taking two independent study courses: Changes to Walt Disney World's Service Design, with Prof. Peterson; and Whether Walt Disney World is Art, with Dr. Kambler. "It's honestly quite tough to balance my work schedule with my class schedule," Dylan admitted.
"It was often very difficult to complete coursework while bringing my A-game to a 45-hour, 6-day workweek, but I made it happen and I'm really proud of myself. The friends (and magic!) I've made here at Walt Disney World will be cherished for the rest of my life. I couldn't have done it without my mom, dad, sisters, or the cast members that made it through the DCP with me."
When Dylan returns to TCNJ for the spring semester, he will go back to his CA job, continue working as a Dayside DJ for the radio station, and resume his finance studies. "I truly look forward to coming back to campus and hitting my favorite spots and paths once again," said Dylan. This summer, Dylan will be interning again, but this time for Bank of America as part of their Advisor Development Summer Analyst Program. "I don't think I would've landed such an incredible position without the amazing experience I've gained while working at Walt Disney World."
Dylan is happy to help anyone at TCNJ who has any questions about the Disney College Program, which he highly recommends. He advises his fellow college students to bring "passion and energy" to any interview, whether it's for the DCP or something else. "I think people really appreciate when you have real passion for something they're a part of."