Associate Professor of Management
Phone: (609) 771-2944
Email: ghitules@tcnj.edu
Office: Bliss Hall 203
Office Hours: Monday & Thursday 10:30am-12:00pm
PhD from the University of Pittsburgh's Katz Graduate School of Business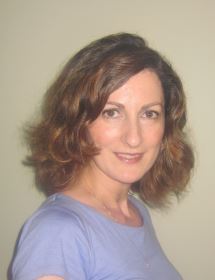 Brenda Ghitulescu is an Associate Professor of Management. Before TCNJ, she was on the faculty of Rochester Institute of Technology's Saunders School of Business, where she taught courses in Organizational Behavior (undergraduate) and Managing Organizational Change (MBA). Professor Ghitulescu received her PhD in Business Administration from the University of Pittsburgh's Katz Graduate School of Business, with a major in Organizational Behavior.
Professor Ghitulescu's research interests include proactive behavior and job crafting, work meaning and callings, and creativity and innovation. Current research projects focus on gender differences in creative performance, calling among creative workers, and environmental influences on work relationships. Her dissertation research examined how individuals proactively use job discretion to craft their work in ways that better suit their unique abilities, skills, and needs, and was conducted with auto assembly workers at Volvo's Uddevalla factory in Sweden and with special education teachers in the New York City public school district. Professor Ghitulescu's dissertation research was selected a finalist for the Sloan Industry Studies Best Dissertation Award 2007. For her recent article "Making change happen: The impact of work context on adaptive and proactive behavior", published in the Journal of Applied Behavioral Science, she was awarded the Douglas McGregor Memorial Award for outstanding paper of the year.
Professor Ghitulescu consulted in the areas of organization diagnosis and change and leadership development as a senior associate with Mercer Delta Consulting (now Oliver Wyman) in New York City. Prior to her doctoral studies, she worked as a consultant with Hay Group in Eastern Europe, consulting in the areas of job analysis and evaluation, compensation surveys, and performance management.
Professor Ghitulescu's current teaching includes courses such as: Organizational Behavior, Managing Organizational Change, and Strategic Management.

Expertise and Research Interests:
Job Design
Job Crafting
Proactive Behavior at Work
Creativity in Organizations
Organizational Change
Teams in Organizations

Selected Publications:
"Psychosocial effects of proactivity: The interplay between proactive and collaborative behavior". Personnel Review, Vol. 47, No. 2 (forthcoming, 2017)
"Making change happen: The impact of work context on adaptive and proactive behavior". The Journal of Applied Behavioral Science, Vol. 49, No. 2, p. 206-245 (2013)
"Job crafting". In C.L. Cooper, D. Guest, and D. Needle (Eds.), Human Resource Management. The Wiley Encyclopedia of Management (3rd ed.), Vol. V. (2014). Wiley Publishing
"Viewing diversity management and workplace equality initiatives form a national culture perspective". International Journal of Business and Management Studies, Vol. 2(3), p. 337-353 (2013) (with W. Lillevik)
"The effect of changing economic conditions on attitudes toward corporate social responsibility". International Journal of Business Governance and Ethics, Vol. 7, No. 2, p. 153-171 (2012) (with J.S. Neves)
"Attitudes of business students toward corporate social responsibility". Proceedings of the Eastern Academy of Management Annual Conference, Boston, MA (2011) (with J.S. Neves and B. Nakhai)
"Learning goals for students' teamwork skills". Proceedings of the Eastern Academy of Management Annual Conference, Portland, ME (2010) (with B. Nakhai and J.S. Neves)
"Human Resource Management Practices in the Knowledge Economy: Developing Human and Social Capital". In R.J. Burke & C.L. Cooper (Eds.), The Human Resources Revolution: Why Putting People First Matters, p. 197-211 (2006). Oxford: Elsevier Science (with C.R. Leana)
"Social capital". In N. Nicholson, P.G. Audia, & M.M. Pillutla (Eds.), Organizational Behavior. The Blackwell Encyclopedia of Management (2nd ed.), vol. XI, p. 368-370 (2005). Oxford: Blackwell Publishing (with C.R. Leana)