Associate Professor of Management
Phone: (609) 771-2944
Email: ghitules@tcnj.edu
Office: Business Building 228
Office Hours: Monday & Thursday 3:00-4:20pm Office hours will be offered via Zoom only. Email for an appointment.
PhD from the University of Pittsburgh's Katz Graduate School of Business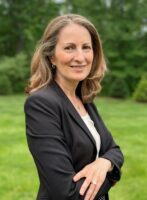 Brenda Ghitulescu is an Associate Professor of Organizational Behavior and Management. Her research interests focus on how employees proactively shape their interactions and relationships with others in the workplace to do their jobs better and add meaning to work, the pursuit of meaning and calling among creative workers, and contextual influences on workplace relationships. Current research projects focus on mentoring and gender differences in creative performance, pursuing meaning among creative workers, and the impact of workspace design on work relationships. For her article "Making change happen: The impact of work context on adaptive and proactive behavior", published in the Journal of Applied Behavioral Science, Professor Ghitulescu was awarded the Douglas McGregor Memorial Award for outstanding paper of the year.
Before TCNJ, Professor Ghitulescu was on the faculty of Rochester Institute of Technology's Saunders School of Business, where she taught courses in Organizational Behavior and Managing Organizational Change in the undergraduate and MBA programs. Professor Ghitulescu received her PhD in Business Administration from the University of Pittsburgh's Katz Graduate School of Business. Her dissertation research was selected a finalist for the Sloan Industry Studies Best Dissertation Award.
Professor Ghitulescu consulted in the areas of organization diagnosis and change and leadership development as a senior associate with Mercer Delta Consulting (now Oliver Wyman) in New York City. Prior to her doctoral studies, she worked as a junior consultant with Hay Group in Eastern Europe, consulting in the areas of job analysis and evaluation, compensation surveys, and performance management.
Courses:
Senior Seminar in Management/Interdisciplinary Business: Managing Organizational
Change – MGT/BUS 498
Organizational Behavior – MGT 301
Leading Organizational Change – MGTG 635 (MBA)
Strategic Management – MGT 499
Selected Refereed Publications and Conference Presentations:

Ghitulescu, B., Khazanchi, S., Tang, Z., & Yang, Y. 2021. One size does not fit all: The role of mentoring context on individuals' creative achievement. Career Development International (in press)
Khazanchi, S., Ghitulescu, B., & Sprinkle, T. 2019. The impact of workspace design: Developing a spatial model of employee collaboration. Academy of Management
Ghitulescu, B. 2018. Psychosocial effects of proactivity: The interplay between proactive and collaborative behavior. Personnel Review, 47(2), 294-318
Ghitulescu, B., Tang, Z., Khazanchi, S., & Yu, Y. 2018. Proactive personality and creative achievement: The moderating impact of mentoring relationships. Academy of Management
Khazanchi, S. & Ghitulescu, B. 2018. The paradox of meaningful work: Employee wellbeing and sustainable workplace. 3 rd International Symposium on Meaningful Work (Vrije University, Amsterdam)
Khazanchi, S. & Ghitulescu, B. 2015. Pursuing meaning in work: The double-bind of calling among artists. Academy of Management
Ghitulescu, B. 2014. Job crafting. Human Resource Management. The Wiley Encyclopedia of Management (3 rd ed.), Vol. V
Khazanchi, S. & Ghitulescu, B. 2014. The double-bind of calling among artists. European Group for Organization Studies (EGOS)
Ghitulescu, B. 2013. Making change happen: The impact of work context on adaptive and proactive behavior. The Journal of Applied Behavioral Science, 49(2), 206-245 * Awarded the Douglas McGregor Memorial Award 2014 for outstanding paper of the year
Khazanchi, S. & Ghitulescu, B. 2010. Understanding creative processes: Creative tensions and strategies to overcome them. Academy of Management
Khazanchi, S. & Ghitulescu, B. 2009. Unraveling the proactive processes underlying creativity: A study of creative workers. Academy of Management
Ghitulescu, B. 2008. Innovative behaviors and collaborative work practices: Complementary effects on individual outcomes. Academy of Management
Ghitulescu, B. 2008. Interactive effects of innovative and collaborative behaviors at work. International Work Psychology Conference
Ghitulescu, B. & Leana, C. 2007. An exploration of how individuals craft their jobs: Work context influences and outcomes. Academy of Management
Ghitulescu, B. & Leana, C. 2006. Human resource management practices in the knowledge economy: Developing human and social capital. The Human Resources Revolution: Why Putting People First Matters, 197-211
Ghitulescu, B. & Leana, C. 2006. Crafting a job to make a difference: Antecedents and outcomes of teachers' job crafting. Academy of Management
Ghitulescu, B., Pil, F. , & Leana, C. 2006. Exploring the idiosyncratic nature of work: Antecedents and consequences of employee job crafting at Volvo Uddevalla. Labor andEmployment Relations Association (LERA)
Ghitulescu, B. & Leana, C. 2005. Social capital. Organizational Behavior. The Blackwell Encyclopedia of Management (2 nd ed.), vol. XI
Ghitulescu, B. 2005. Employees' investment in organizational social capital: The role of high-involvement work practices. Academy of Management
Leana, C., Ghitulescu, B., & Pil, F. 2005. Multi-level predictors of teacher turnover: Human capital, social capital, and contextual factors. Academy of Management
Pil, F., Ghitulescu, B., & Leana, C. 2003. The influence of production systems: Exploring individual, team, and organizational processes and outcomes. Academy of Management
Pil, F., Ghitulescu, B., & Leana, C. 2003. Craft and mass production: Implications for worker attitudes and outcomes, and organizational performance. Industrial Relations Research Association (now LERA)