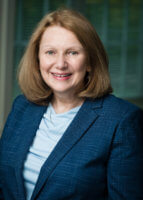 Dr. Jervis comes to TCNJ from the University of Rhode Island, where she served as director of the Graduate Healthcare Management Program and professor of accounting. She served as interim dean of the College of Business at URI in 2015, and prior to that role, was the Richard Vangermeersch Professor of Accounting and area coordinator for the accounting information systems area. During the 2018-2019 academic year, Dr. Jervis was an American Council on Education Fellow at Southern Connecticut State University under President Joe Bertolino.
Among Dr. Jervis' research interests are hospital and municipal financial reporting and its impact on users' decisions in the public interest. She has several publications in scholarly accounting and health care journals that include Accounting and the Public Interest and Journal of Health Care Finance. She also chaired the URI College of Business Student Affairs and Diversity Committee, served as faculty advisor to the Women in Business student organization, and was a member of the university's President's Commission on the Status of Women to enhance policies for non-discrimination.
Dr. Jervis earned her doctorate from the University of Connecticut and has received undergraduate and graduate teaching awards in business and a faculty service award in recent years. She and her husband, Christopher Bannister, have two grown children, two granddaughters, and a pug. She enjoys playing the oboe and handbells.