Welcome to the School of Business!
During 2021-2022, we returned fully in-person, and it was an outstanding year! With some of the highlights mentioned below, you will see that we await many more exciting opportunities to arise in this coming year. The students, faculty, and staff continue to astound me with their kindness to others, and dedication to an outstanding learning environment at the School of Business. Our School of Business continues to be named in the top 100 undergraduate schools in the nation by Poets&Quants, based on alumni surveys.
Our students again excelled in so many ways last year. In May, the College held a separate graduate student commencement for the first time. An MBA graduate in Business Analytics was chosen to be the student commencement speaker. Students excelled in our in-person Mayo Business Plan competition, and a pair of School of Business students won top prize for their financial planning cell phone app. Two School of Business students were inducted into the Blue & Gold Hall of Fame. One student in a business minor program received a perfect score on the associate level Microsoft Excel Certification exam. A marketing student was named one of five finalists for the PSE Salesperson of the Year at that national competition. Three students received scholarships from the NJ Society of Certified Public Accountants. Many other scholarships were awarded as well.
Our faculty continue to achieve on so many levels. Dr. Susanna Monseau, Professor of Interdisciplinary Business, won a Fulbright award for her research on sustainable fashion and law. She is working this year on her research at Turku University of Applied Sciences in Finland. For the second year, Dr. Bill Keep hosted a virtual international conference on multi-level marketing, with influential experts in the industry who presented to over 700 participants. Dr. Keep recently had a journal article published in Japanese. Dr. Lynn Tang and a May 2021 graduate presented a paper at the European Academy o Management in Switzerland. Dr. Michele Naples published a paper in Rutgers Journal of Law and Public Policy that was highlighted by the NJ Star Ledger about the cost of the drug wars in New Jersey.
In May, we extended our thanks to Dr. Gerald Miller, Dr. Hossein Nouri, from Accounting and Information Systems, and Dr. David Prensky, Management, for their long years of service as we celebrated their retirements from the School of Business. This fall, we welcome two new colleagues, Dr. Mengxi Cheng, Assistant Professor of Finance, and Dr. Nuriddin Tojiboyev, Assistant Professor of Accounting, to our faculty. In addition, a long-time adjunct, Alberto Carbonilla, has joined the full-time faculty as a full-time lecturer in Management. Our MBA program also welcomed a new director in the spring, Stephen Tomkiel, who came to us from the admissions office. Please warmly greet these new members when you meet them.
We look forward to our Association to Advance Collegiate School of Business accreditation Continuous Improvement Visit in November when three external deans of business visit. With respect to program changes, our MBA program welcomed its first MBA/MPH students this fall. We also launched a Strategy, Innovation, and Leadership certificate, and welcomed a new student for that certificate. We started a Supply Chain minor and a Supply Chain track in the management major. We now have a Wealth Management and Financial Planning minor, as well as a Business Studies minor that offers business courses of interest to non-business students.
Please come to our student Welcome Picnic this fall. We anticipate upcoming alumni events this year starting in September. We look forward to the Mayo Business Plan Competition and our Women's Leadership Summit, as well as our popular Business Leader's Speaker series. We welcome the new academic year in delighted anticipation. Please keep your eye on the website for upcoming events.
Warmest regards,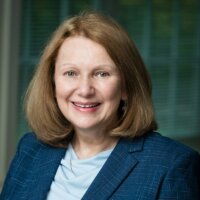 Kathryn Jervis
Dean