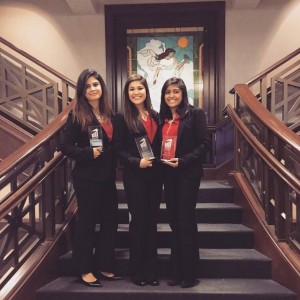 Congratulations to Mehak Aswani, Pauleena Pal, and Sheenal Parikh — Team Tikka Roll — 1st Place winners of the 2015 Mayo Business Plan Competition, with a cash prize of $22,000. Thor Electric Longboards and ProjectSpotter earned 2nd and 3rd place awards, respectively, at the Final presentations on April 8th. Read more here.
The Mayo Business Plan Competition is designed to increase student appreciation for the challenges associated with developing a viable business offering (product or service) while, through an iterative process, recognizing those students best able to articulate a plan that addresses these challenges. Total Prize $$ = $40,000. The first place team won $22,000 with prizes of $12,000 for second place and $6,000 for third place.
[nggallery id=26]
Photos 4-21 courtesy of Brendan Mcgeehan, The Signal
Sponsoring Donors
The School of Business thanks Professor Herbert B. Mayo for establishing the Mayo Business Plan Competition and Eric Szabo '97 for his generous support.
Judges
Numerous alumni have been involved with the Mayo Business Plan Competition over the past several years, serving as judges at various stages of the competition. The following are the judges for the semi-finals and finals of the 2015 Mayo Business Plan Cometition at The College of New Jersey:
Joseph Haddock
'97
Joseph Haddock is a Director responsible for Operational Risk Management at Annaly Management Company LLC. Prior to joining Annaly in 2011, Mr. Haddock spent 13 years at Bloomberg LP in various people, project and product management roles. He has taught finance courses at both Rider University and The College of New Jersey. Mr. Haddock is a CFA Charterholder and co-chairs the SIFMA AMF Operational Risk Committee. He graduated in 1997 with a degree in finance from The College of New Jersey and in 2006 with an MBA from Cornell University, S.C. Johnson Graduate School of Management.
Mary Lauria
'86
Mary Lauria is the VP, Global Talent Management at Johnson & Johnson. In this capacity, Mary has responsibility for Talent Acquisition, Leadership Development & Learning, Assessment, Succession and Talent Mobility. Previously, Mary has held both talent specialist and HR generalist roles at Pepsi, Bank of America, Wyeth and Constellation Energy. She is a 1986 graduate of The College of New Jersey. She was a guest judge for the Semi-final presentations on March 11.
Stacy Mattia
Stacy Mattia is a Senior Banker and SVP in Middle Marketing Banking for Chase Bank. She has 23 years of banking experience, consulting with her business clients' around their credit, treasury and international banking needs. Stacy is the Chairman of the Board of Directors of the MIDJersey Chamber of Commerce.
Morayea Pindziak
'99
Morayea Pindziak is the Vice President of Marketing for The Agency Inside, a full-service customer engagement agency. In this role, Morayea is responsible for managing and promoting the agency's brand. Prior to joining The Agency Inside, Morayea was the Marketing Director for an enterprise software company specializing in the publishing industry. She graduated from The College of New Jersey in 1999 with a degree in marketing.
Eric Szabo
'97
Eric Szabo is the Chief Risk Officer for Annaly Management Company LLC. Mr. Szabo is CFA Charterholder and acquired the Professional Risk Manager Designation from the Professional Risk Managers' International Association in 2002. Prior to joining Annaly in April of 2004, Mr. Szabo was analyst and trader at TimesSquare Capital Management focused on real estate related securities. Mr. Szabo received a Master of Science in Finance from Boston College in 2001 and is a 1997 graduate of The College of New Jersey.
---
The 2015 Mayo Business Plan Competition semi-finalists:
diBew
Kristen Toro (Marketing); Catherine Killian (Management)
ProjectSpotter
Patrick Kelly (Marketing); Eric Sawyer (Marketing); Jessica Gorham (Psychology); Mathew Hellenbrecht (Finance)
Thor Electric Longboards
Ian Nolan (Mechanical Engineering); Jamie LeRoy (Mechanical Engineering); Jenna Wilson (Accounting)
Tikka Roll
Mehak Aswani (Finance); Pauleena Pal (Psychology); Sheenal Parikh (Finance)
Total Easy Living
Jacob Camins-Esakov (Finance); Marissa Morello (Engineering Management); James Tomasullo (Finance)
The Whole Kitchen
Vincent Caputo (Management); Pete Kennedy (Communications)
---

Alumni Entrepreneurship Panel and MBPC Info Session
The 2015 Mayo Business Plan Competition Info Session was held on Oct. 15th in conjunction with the 3rd Wednesday Alumni Entrepreneur Panel (above), which was sponsored by the Dean's Advisory Council and co-sponsored by Net Impact with support from the American Marketing Association.
Moderator:
Christopher Jones '90, Co-founder and CFO Durante Rentals, LLC
Panelists:
Greg Fitzgerald '14 (Co-founder of Solar Kick, winners of 2014 Mayo Business Plan Competition)
Chris Hindley '04 (Co-founder/Pres., Hoodie Pillow, as seen on TV: "Shark Tank")
J. Brian Murray '98 (Principal at Shift Capital)
Jacqui Town '08 (Co-founder/Owner Rinn Duin Brewing)
After introducing the panelists, Chris Jones shared a bit of his story, and advised students on the importance of being willing to take risks. "Some VCs want to know how you handle risk/failure. Two investors once took me to a fancy restaurant and asked me if I've ever had a [business] loss… Sometimes it's the people too; surround yourself with the right people. You are always fighting for resources. At the end of the day, it depends on your personality."
Chris Hindley agreed, cautioning students not to get disillusioned "If you know your idea or business is something you can make happen, you start talking with people around you and they might think you are out of your mind, like that guy [David Gabauer, our business alumni chapter president.] Don't let other people get into your head."
On moving beyond the Mayo Business Plan Competition… Greg Fitzgerald spoke about the unrealistic expectations of the costs of things like a patent lawyer at $495/hour. This expense alone could have eaten their entire winnings. Fortunately, since they were students, they were able to negotiate a discount.
Jacqui Town talked about experiencing road bumps with her business plan for Rinn Duin: "There were so many things that we hadn't accounted for. We ordered equipment from China that spent 2 weeks in quarantine at Newark Customs, and then we got a storage bill from Customs for the 2 weeks it was there for $7000. We are fighting with the supplier now, for that one."
Brian Murray elaborated on social entrepreneurship, which he is passionate about. "There is a myth that social entrepreneurship is not entrepreneurship. I buy cheap real estate and put value into it. That's the capitalism. But then, I use it for social good. There's a lot of different ways to add a social edge to what you are doing and be considered socially responsible."
Read about previous Mayo Business Plan Competitions here:
2014
; 2013; 2012.