Mike Karas '11, JnJ Sales and Logistics Company, LLC/Field Sales Organization Co-Op
On September 9th, Mike Karas – senior interdisciplinary business major & psychology minor – gave a brief presentation to MKT 310-01, about his experience in Johnson & Johnson's Co-Op program.
"I was offered a position with the Field Sales Organization, which is Johnson & Johnson's customer-facing team for retailers such as Shop Rite, Giant Eagle, Rite Aid, and Wegmans, just to name a few of the local ones. With the FSO, I've been analyzing our customer's growth and declines to see what lessons we can learn to grow our business in the near future. One of my projects is also determining the best way to promote specific items in specific geographies around the United States.
This Co-Op has been a particularly great experience because of the people I've had the fortune of working with. Everybody has a different story as to where they've come from, what they've done, and where they plan on going next. From day one, the personalities I've dealt with have all been those that are easy to work with, easy to be friendly with, and supportive of you all the way through."
---
Glenn Kessler, Chief Executive Officer, HCD Research
Glenn Kessler, President & CEO of Holistic Communications Decisions, captivated Dr. Tucci's Marketing Research class, with a demonstration of HCD's media analysis tool MediaCurves. "HCD Research uses its automated response curves technology as a part of its HCD Advertest™ media communications tool to conduct commissioned studies for businesses and media outlets in the area of advertising effectiveness. HCD can also use the curves technology for applications in areas of public relations and crisis management, customer service, and more." Below, Kessler tracks responses to a political ad by party affiliation with MediaCurves.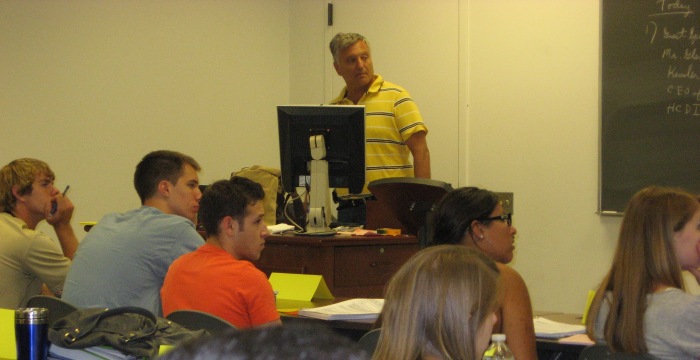 ---
Jack Tatar, owner & CEO, GEM Research Solutions, LLC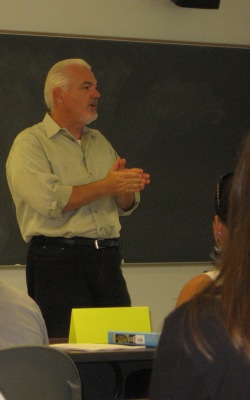 GEM Research Solutions offers a full range of market research services including qualitative research methods such as focus panels, in-depth interviews, and web usability analysis as well as quantitative research through their innovative iAsk Research technology. Pictured on the left, founder Jack Tatar recently demonstrated the value of focus groups to Dr. Tucci's market research class, by dividing the class into clients and participants in a simulation of a website test his company had recently conducted. Tatar is shown below, with Dr. Tucci.