Twenty-six alumni and 97 students joined faculty and staff at a Finance Forum sponsored by JPMorgan at their NYC headquarters in March, 2011. Hosted by Guy Chiarello '81, JPM's CIO, the program included a panel discussion and networking reception.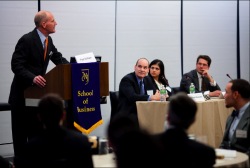 Pictured left to right: Paul Sullivan '85, Managing Director at Merrill Lynch (standing); Mike Movsovich '86, Partner at Kirkland & Ellis LLP; Tejal Joshi '01, VP Lehman Holdings; and Stephen Berenson, Vice Chairman of Investment Banking at JPM. See more here. Read more in TCNJ Magazine: The Secrets of their Success.
Left, Guy Chiarello '81 welcomes TCNJ business students to JP Morgan. Dean Keep concludes the program at right.