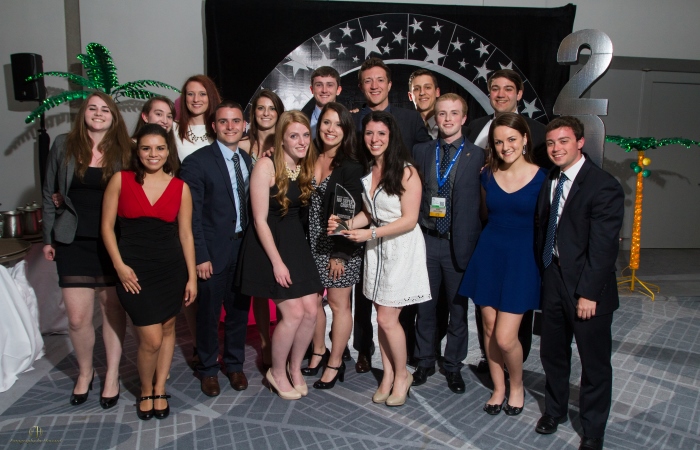 Four hundred and fifty students from Pi Sigma Epsilon (PSE) participated in competitions at the National Conference in Miami from April 7 to 12. PSE is a national co-ed sales/marketing fraternity with over 100 chapters.
Phil Nichilo (junior, Interdisciplinary Business/Personal Selling Minor) came in fifth place in the sales role-play competition among the 144 competitors from other universities. Other TCNJ finalists were Kyle Smith (junior, Management), Christopher Minitelli (junior, Communications & History), Matthew Napoli (junior, Marketing), and Amber Loihle (senior, Psychology). Phil came in first in the regional competition in the fall, while Chris came in second. Amber won the public speaking competition at the regional conference. Kyle was the project manager in charge of role-play research and coordination of rehearsal times between our competitors and our corporate partners, TEKsystems, Modis, Northwest Mutual, and UPS.
Matt Napoli, chapter president for the 2014 year, said this about his experience at the conference: "The PSE National Convention was a remarkable experience. I learned so much and was able to cultivate many professional relationships throughout the convention. I was able to compete with students from around the nation in a real-world B2B sales role play scenario, a setting I look forward to working in after graduation. I believe the competition prepared me for my professional career in ways an ordinary classroom cannot. In addition to meeting recruiters and greatly enhancing my professional network, I was thankful to represent TCNJ." Chris Minitelli commented: "My time in PSE has been greatly rewarding and has helped me grow in many ways. Our time and success in Miami at Nationals just shows how hard we work and how it all pays off." Amber commented: "Never thought I'd be a finalist in a sales competition."
In the role-play sales competition students acted the role of salespeople representing Multiview, an internet banner ad retargeting firm. A corporate recruiter acted as the buyer, an executive with Covidien, a medical equipment firm. Twelve students competed in each role-play room and judges selected the top two students to be judged in the finals.
The TCNJ chapter won the top chapter award in the Silver category of chapters, which is based on the size of the chapter. The award is based on the overall accomplishments of the chapter. The other finalists for top Silver chapter award were Virginia Tech, Illinois State, and the University of Wisconsin-Whitewater. The chapter president for the 2013-2014 academic year is Kelly Cosentino (senior, Marketing.)
Jenny Green, who was last year's president of the TCNJ chapter of Pi Sigma Epsilon won the award for top alumni advisor.
Ninety seven students also competed for scholarships and TCNJ students won three of those scholarships. They were Nicole Fucci (junior, Finance), Rachael Scott (junior, Marketing), and Matt Napoli.
TCNJ students also participated in a marketing plan case competition, top salesperson competition, and the public service project competition.
Dr. Pelham is the faculty advisor to the group and accompanied and coached the 17 students who participated in the competitions. He was also responsible for coaching two students from other universities and acting as a judge in one of the sales role play rooms.
Twenty eight companies were present to recruit students at the competition. They included Multiview, Geico, Northwest Mutual, Enterprise, Grainger, Level 3, Federated Insurance, ADP, CDW, 3M, Ferguson, Sherwin-Williams, Victaulic, and Liberty Mutual.