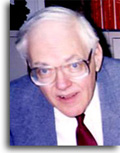 The Economics Program of The College of New Jersey administers the Daniel R. Hall Award to acknowledge and reward excellence in community service and the study of economics. The award was created in 1992 by a group of students to encourage future students to emulate the attributes of excellence and service personified by Daniel R. Hall, Chairman of the Economics Department at that time. The recipient(s) will be announced at the School of Business Commencement and will receive an individual plaque and a monetary award. The name or names of the recipients will be engraved on a permanent plaque displayed in the School of Business.
The award is intended to motivate and assist economics majors to pursue graduate education, an active role in economics, and/or service to the community. Selection will be based on:
enrollment in The College of New Jersey Economics B. A. or B. S. program, and
achievement of an overall GPA in Economics courses of 3.25 or higher, and
service activities (department, school, college & community)
The Economics faculty will resolve all questions of eligibility, make the selection(s) and determine the amount of the award(s). The amount of the award will be based on the assets of the Daniel R. Hall account maintained by the Office of Development and Alumni Affairs, the number of recipients and the judgment of the Economics faculty.
---
Past Recipients of the Daniel R. Hall Award
2023 – Matt Duca
2022 – Emily Heiden
2021 – Noah Sperling
2020 – Suly Merida
2019 – Nicholas Agresti
2018 – Jonatan Moukh
2017 – Brian J. Connor
2016 – Pravin Matthews and Courtney Wirths
2015 – Nel Borad and Brennah Ross
2014 – Grace Moran and Aleksandr Nozhnitskiy
2013 – Kyle Johnson and Kristen Duke
2012 – Nicholas Falcone
2011 – Bradford Van Arnum
2010 – Manan Sampat
2009 – Amanda Lockshiss and John Young
2008 – Nancy Todaro
2007 – Michael DeSimone
2006 – Natalia Hud
2005 – Li Liu
2004 – Thomas Clark
2003 – Krista Smokowski and Megan Levens
2002 – Matt Hoehn and Brian Grube
2001 – Jennifer Borkowski
2000 – Joe Bisti and Michael McCalley
1999 – Keirsten Watson and Daniel T. Schneider
1998 – Craig Moran
1997 – Paul Markouski and Kimberly A. Bernhardt
1996 – John P. Frescki, III
1995 – Michael C. Poray
1994 – Jennifer L. Walshe and David B. Zelikoff
1993 – Laura M. Brooke
1992 – Marie R. Juega and Christina M. Brandimarte