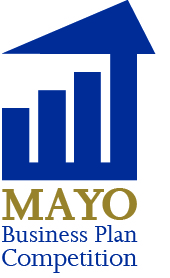 Congratulations to the 2016 Mayo Business Plan Competition Winners:
The top 3 teams presented their business plans to the judges before a packed house on April 6, in the Library Auditorium.
The First Place prize of $30,000 was awarded to Nic Freschi and Cody Combs of Solar Divide. Lions' Laundry earned the Second Place prize of $14,000 and Elementary Robotics received the Third Place prize of $6,000.
Solar Divide is a solar energy technology company. Their product is a retrofitting solar energy device, which turns wasted heat energy on solar farms into electricity. Solar Divide envisions a future for solar energy where the solar spectrum is divided into regions, each of which can be used for a different solar energy application. 
Lions' Laundry is a laundry pickup/delivery service geared towards college students. Laundry would be picked up at a student's room and returned washed, dried, and folded in their personalized laundry bags. The business will function as a laundry brokerage service, partnering with Hamilton Washery and another local Laundromat to handle the wash and fold operations.
Elementary Robotics is a non-profit organization that has a mission of inspiring elementary students to help them realize their potential. Elementary students participate in the team's after school robotics program by learning how to build and program their very own robot to compete against others.
TCNJ Press Release: Victory is literally a sunny future for these physics majors, May 1, 2016
The Signal: Read "Winners Named in Mayo Business Plan Competition" by Megan Kelly, April12, 2016
| | | |
| --- | --- | --- |
| 1st Place: Solar Divide | 2nd Place: Lions' Laundry | 3rd Place: Elementary Robotics |
| | | |
View Photo Gallery here: [nggallery id=33]
The Mayo Business Plan Competition is designed to increase student appreciation for the challenge of developing a viable business. Through an iterative process the MBPC recognizes those students best able to articulate a plan that addresses these challenges. In recognition of both the time involved and difficulty of the task, the competition provides a substantial reward for the successful teams.
Participants: All TCNJ students from ALL majors are welcome to participate. Students with ideas that translate into viable business products or services can come from virtually any School and major. Each team must be comprised of no less than two and no more than four current TCNJ students.
If requested, an effort will be made to assist any team of non-business students looking to add a business student (e.g., accounting, marketing, finance, etc.). The competition is not associated with a course and students must rely upon their own resourcefulness in finding assistance (e.g., a faculty member, the TCNJ Small Business Development Center, family and friends). Establishing the concept, developing the business plan and three-minute video, and managing the team remain student tasks. The competition depends on the teams' ability to determine what constitutes a solid business plan. Students make all final decisions and the business plan is solely their responsibility.
Mayo Business Plan Competition Semi-Finalists
Drake Seasonal
Nicholas Cuzzola – Mechanical Engineering, senior
Joseph Martinico – Computer Engineering, senior
Lions' Laundry
Greg Donohue – Finance, junior
Peter Heltzel – Finance, junior
Andrew Goodman – Economics, junior
Elementary Robotics
Sarah Sleiman – Business Open Options, freshman
Skyler Maxwell – Electrical Engineering, freshman
Megha Rathi – Business Open Options, freshman
Dominic Edward Clark – Management, freshman
NeoBook
Neophytos E. Zambas – Marketing, sophomore
Agathoclis Serghiou – Marketing, senior
Endo
David Shull – Computer Science, sophomore
Lawrence Maloney – Accountancy, freshman
Joseph Tursi – Finance, sophomore
Solar Divide
Nicolas Freschi – Philosophy / Physics, senior
Cody Combs – Physics, senior
 
 
Competition Awards – Prize Money Award and Disbursement: A top prize of $30,000 will be awarded to the winning team with prizes of $14,000 and $6,000 for second and third place teams respectively. Prize money will be disbursed in one of two ways. The entire amount can be issued to an LLC formed by the team or in equal amounts to each team member. Team membership may fluctuate in the early stage (e.g., due to lack of participation) but the team listed in business plan when submitted will be the team of record.
Sponsoring Donors: The School of Business thanks Professor Herbert B. Mayo for establishing a supporting the Mayo Business Plan Competition and Eric Szabo '97 for his generous support.
Judges
Numerous alumni have been involved with the Mayo Business Plan Competition over the past several years, serving as judges at various stages of the competition. The following are the judges for the semi-finals and finals of the 2016 Mayo Business Plan Cometition at The College of New Jersey:
| | |
| --- | --- |
| Joseph Haddock '97  | Joseph Haddock is a Managing Director responsible for Business Operations at Annaly Management Company LLC. His responsibilities include oversight of transaction processing, financial data validation, pricing valuations and shared responsibility for business continuity planning, IT controls, enterprise risk management and continuous process improvement. Prior to joining Annaly in 2011, Mr. Haddock spent 13 years at Bloomberg LP in various people, project and product management roles. He has taught finance courses at The College of New Jersey and Rider University. Mr. Haddock is a member of the SIFMA AMF Steering Committee and co-chairs the SIFMA AMF Operational Risk Committee. He holds an undergraduate degree in finance from The College of New Jersey, a Masters in Business Administration from Cornell University and is a CFA charter holder. |
| Morayea Pindziak '99  | Morayea Pindziak is the Vice President of Marketing for Alliance Life Sciences, a business management consultancy for pharmaceutical and biotech manufacturers. In this role, she is responsible for managing the company's brands, messaging, lead generation and public relations. Prior to joining Alliance, Ms. Pindziak was the Vice President of Marketing for The Agency Inside, a customer engagement agency from Harte Hanks and Marketing Director for an enterprise software company specializing in the publishing industry. She graduated from The College of New Jersey in 1999 with a degree in marketing.  |
| Michael Saperstein '99  | Michael Saperstein is a Marketing Executive at Spectramedix and owner of Saperstein Creative Marketing Services. He is an award winning Marketing Manager with extensive experience within the medical device, healthcare and consumer electronics industries. Prior to joining Spectramedix he held marketing management roles with Alere Inc. and Abbott Laboratories. Mr. Saperstein graduated The College of New Jersey in 1999 with a degree in international business and a marketing minor. He is also the Secretary and Founding President of the TCNJ School of Business Alumni Chapter.  |
| Eric Szabo '97 | Eric Szabo is a CFA Charterholder and acquired the Professional Risk Manager Designation from the Professional Risk Managers' International Association in 2002. He has held the roles of Chief Risk Officer, analyst and trader. Mr. Szabo received a Master of Science in Finance from Boston College in 2001 and is a 1997 graduate of The College of New Jersey. He has been a supporting sponsor of the Mayo Business Plan Competition since its premier in 2012.  |
| Gloria E. Weissbart '78  | Gloria Weissbart has been a Senior Vice President at Wells Fargo for 16 years and additionally a Treasury Management Sales Consultant since 2008. Prior to her tenure at Wells Fargo, she was an Assistant Vice President at Merrill Lynch and a Treasury Management Sales Officer at PNC Bank. Ms. Weissbart earned her undergraduate degree in Early Childhood Education at Trenton State College in 1978 and an MBA from Rider University. |
| Blair Worrall '78  | Blair L. Worrall has been Senior Vice President – Ratings Delivery and Data at Moody's Corp, since 2011 responsible for coordinating the business processes, technologies, data and people that impact Moody's end-to-end ratings and data delivery processes.  Prior to this role, he served in numerous leadership positions in Finance.  Before joining Moody's in 2004, Mr. Worrall was Vice President, Accounting for RCN Corporation from 2002 to 2004 and held various finance positions at Dow Jones & Company, Inc. from 1979 to 2001. Mr. Worrall holds a BS in Business Administration from the College of New Jersey and an MBA from Rider University, and is a Certified Public Accountant. |
| | |
Process: The competition will consist of the following steps (revised dates):
12/4/15: Teams register via website link by December 4, 2015. Registration after this date requires an exceptional situation and Dean Keep's approval. The number of judges follows from the number of teams. If you "think" you might want to compete then register.
1/4/16: All teams confirm participation. Signed non-disclosure agreement from each team member due. [Judges sign a non-disclosure agreement prior to viewing a business plan.]
1/31/16: Business plans due (via email to Dean Keep). Absolute due date; no exceptions. Business plans evaluated by two judges using rubric available on website. Maximum plan length: 20 pages, double-spaced 11 or 12 font, plus additional charts and tables (max additional five pages). Plan should be submitted as a PDF (not a Word file). A short video (no more than three minutes) describing the concept and likely target market(s) is strongly suggested though not required.
2/19/16: A maximum of six teams invited to revise business plan and advance to semi-finals.
3/9/16: Semi-finalist teams give a 20-minute presentation plus 10 minutes Q&A before judges.
3/15/16: Three of six semi-finalist teams invited to revise plans and advance to finals
4/6/16: Final presentations before judges (maximum 30 minutes, questions from judges allowed throughout time period). This event is open to the public. 1st, 2nd, and 3rd place teams announced.
Non-Disclosure Agreement: To help protect the creative ideas and innovation of Mayo Business Plan Competition (MBPC) teams, all competitors and judges are required to sign a TCNJ non-disclosure agreement. Print and complete the attached NDA form. Each member of a MBPC team must submit a completed and signed form in hard copy or as a scanned attachment. The due date is 1/4/16. Judges will be sent forms to complete.
Additional information: View a Business Plan Outline and the 2016 Mayo Business Plan Competition Schedule.
MBPC Info Session: The 2016 Mayo Business Plan Competition Information Session took place on Oct. 15, with the 3rd Thursday Alumni Discussion Panel on Entrepreneurship. sponsored by the Dean's Advisory Council. The program was co-sponsored by the TCNJ Entrepreneur Club and Beta Alpha Psi.