"You're hired!"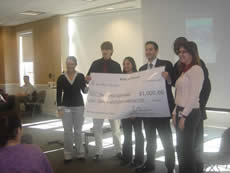 Had this actually been NBC's hit reality show, The Apprentice, that's what Team Invex would have heard at the "Lion's Apprentice" grand finale on the afternoon of December 6 in the Business Building lounge.  But instead of working alongside Donald Trump, winners Mira Shah and Michael Pudlowski, both sophomores, and senior Richard Brown will settle for sharing a $1,000 prize and the title of "Lion's Apprentice."
For two months, the five participating teams in the "Lion's Apprentice" competed in bi-weekly challenges presented by local corporations, including Sodexho, Mercer County Chamber of Commerce, and the American Disabilities Corporation.  At the conclusion of each challenge, a winner was named, and a team was eliminated.
The final challenge involved the development of a marketing strategy for Johnson & Johnson.  The company plans to release a new HIV drug in 2008, and asked the teams to use their creativity and market-savvy to create an advertisement for the drug for potential publication in a medical journal.
With two wins under their belts respectively, the final two teams, Team Invex and Team Moneymakers, went into the finale at a tie.
"Both teams did a phenomenal job," said Johnson and Johnson representative and TCNJ alumna Maureen Tort, but in the end, Invex earned the title.
"The only people who lost were those who chose not to compete."
Fans of The Apprentice television show, Dean of the School of Business Emmanuel Osagie and Associate Professor Alfred Pelham created the "Lion's Apprentice" program last year as a practical real-world application of what students are learning inside the classroom.
"You can't confine teaching and learning to between the two covers of the textbook or the four corners of the classroom," said Osagie.
"We said, 'hey, these are young people that are displaying what business is all about [on the show],'" said Pelham, and decided to apply those same concepts to the campus-wide competition.  "We do this because we have a very strong belief that a business school should celebrate the best of what we have to offer"—the quality and ambition of TCNJ students.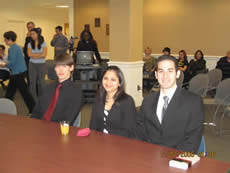 The students enjoyed the chance to show off the business skills they have learned thus far at TCNJ.  "In a word, it was fun," said winner Brown, an international business major who signed up for the "Lion's Apprentice" for the opportunity to network with the corporate sponsors.  Besides the title and the monetary prize, Brown is leaving the competition with some new friendships.
"We didn't know each other before," he said of teammates Shah and Pudlowski, "and now we're pretty good friends."
Though only one team can possess the title of "Lion's Apprentice," the runner-ups are winners as well.  "The only people who lost were those who chose not to compete," said Pelham.