Phone: (609) 771- 2922
Email: michels@tcnj.edu
Office: Business Building 315
Office Hours: Tuesday 4:00-5:20pm Friday 3:00-4:20pm All office hours will be virtual through Zoom
JD Rutgers Law School, Newark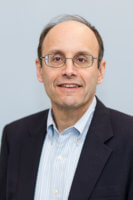 Kevin Michels is professor and founding director of the School of Business Center for Innovation and Ethics. He created and teaches the course in Innovation in the undergraduate and Strategy, Innovation and Leadership track of the MBA program, as well as courses in Business Ethics and Corporate Social Responsibility and the Legal and Regulatory Environment of Business.  His current research explores how values, ethics, and technology can be integrated in the innovation process.
Prior to joining TCNJ, he was a member of the law firm Michels & Hockenjos, L.L.C., where he advised entrepreneurs and innovators who built companies and counseled law firms and served as counsel and expert on legal-ethics issues. His most recent article, "A Normative Understanding of Innovation," is forthcoming in Novation — Critical Studies of Innovation.  He is also the author of articles in the Georgetown Journal of Legal Ethics, the Seton Hall Law Review, the Case Western Reserve Law Review, the Rutgers Law Review, and the University of Louisville Law Review as well as the treatise, New Jersey Attorney Ethics (Gann Law Books), which has been cited frequently in opinions of the New Jersey Supreme, the New Jersey Superior Court, and New Jersey ethics committees and boards.
His teaching has been recognized in the School of Business, the College, and nationally. In 2012, he was awarded the Beta Gamma Sigma Faculty Award for Passion for Business ~ Most Inspirational. In 2016, he was elected by the TCNJ graduating class to serve as College Faculty Commencement Speaker.  In 2017, he was named by Poets & Quants as one of the "Top 40 Undergraduate Business Professors" in the nation.
Professor Michels received his B.A. with honors from Rutgers College, where he was a Henry Rutgers Scholar and was elected to Phi Beta Kappa. He received his J.D. from Rutgers Law School-Newark, where he was Research Editor of the Rutgers Law Review. He held the Curran Chair at Gonzaga Law School, where he was awarded tenure before returning to TCNJ to lead the Center for Innovation and Ethics.  He is an elected member of the American Law Institute.