Business students take full advantage of the College's Global Program opportunities, studying in diverse locations ranging from Central and South America, to Europe and Australia. Here are some brief reflections on their experiences. For information about study abroad opportunities, visit Global Programs at TCNJ.
2015-2016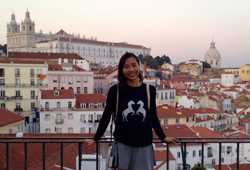 Finance junior Ting Yang, was one of 21 TCNJ students who spent the Fall 2015 semester studying in Heidelberg, with Professor Waheeda Lillevik. She was also the recipient of a federal Benjamin A Gilman International Scholarship: $8,000 to spend the spring 2016 semester abroad at the CIEE Study Center at Peking University in Beijing, China.
2014-2015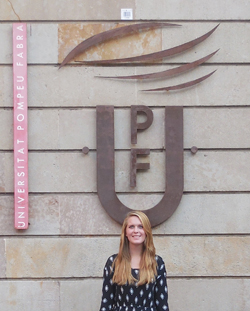 During the summer of 2014, marketing junior Christina Madsen interned at ELSK, a startup fashion and design label located in the small coastal town of Klitmøller, Denmark. Christina enjoyed working for a brand that not only values quality and sustainability, but also prides itself in creating designs anchored in the rich heritage of Northern Denmark, where her family is originally from. She credits her positive experience to working at a startup, which allowed her to work on a wide array of projects, ranging from styling photo shoots to building the brand's first pop-up shop to producing the blog content and employing guerrilla marketing techniques. After completing her internship in Denmark, Christina traveled to Barcelona, Spain, where she spent the fall semester studying International Business at Universitat Pompeu Fabra and lived with a local family to enhance her Spanish fluency.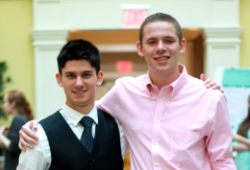 Sophomore Michael Schiumo, who has a double major in Finance and Russian Studies, was awarded the prestigious Boren Scholarship, allowing him to spend summer of 2014 in Kazakhstan and the following academic year in Russia. "Boren Scholarships provide up to $20,000 to U.S. undergraduate students to study abroad in areas of the world that are critical to U.S. interests and underrepresented in study abroad." He is shown (right) with Martín Crosby-Arreaza, international studies major and fellow Boren Scholar.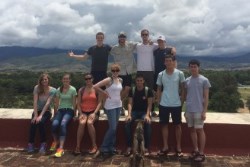 Rising Economics senior Davis Craig spent the summer of 2014 in Oaxaca, Mexico, taking 30 hours of classes a week, living with a host family, and attending cultural activities almost everyday.
---
Spring 2014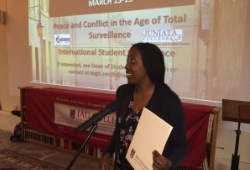 International business junior Wambui Gilbert studied at IAU College in Aix-en-Provence, France during the spring of 2014 and participated in their 11th annual international student conference on U.S.-European relations entitled "Peace and Conflict in an Age of Total Surveillance." The event was co-sponsored by Juniata College's Baker Institute for Peace and Conflict Studies and AEGEE: The European Students' Forum.
---
2013 European Study Tour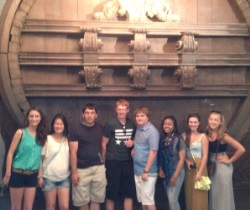 During the summer of 2013, 8 students accompanied Professor Al Pelham on the European Study Tour to France and Germany for the International Business 250 course. The purpose of the course was to develop an understanding of how culture and politics impact business decision making for companies in the European Union and companies doing business globally. In France the students went on tours of Paris, Strasbourg and Vichy where they attended lectures at Pole University/Clermont-Ferrand University. In Germany they toured Heidelberg and Frankfurt where they attended a lecture by a European Central Bank representative about the role of the bank in Europe's financial stability.
---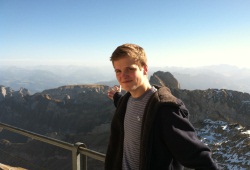 TCNJ Heidelberg Program – Business and International Studies
Economics sophomore Davis Craig spent the fall 2012 semester studying the European Union, at SRH University Heidelberg along with fellow students and TCNJ Professor Pam Kravitz. Heidelberg is located in the German state of Baden-Württemberg, the home of the German automobile industry, the Black Forest, and Germany's oldest university. The city has one of Germany's best-preserved historical centers, with one of the country's oldest stone bridges and many buildings dating from the medieval and Renaissance periods.
---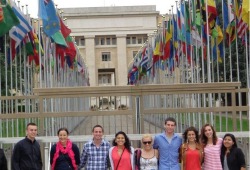 Summer 2012 Study Tours
TCNJ students had the opportunity to experience the global business environment with a focus on doing business in the European Union through a three-week study tour to France, Switzerland, the UK during the summer of 2012. They enjoyed business visits and cultural excursions in all locales, including ample sightseeing in Paris and London. Several are pictured here, with Dr. Susanna Monseau, in front of the UN Headquarters in Geneva, Switzerland.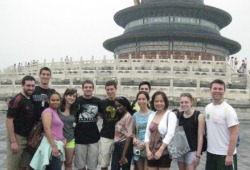 In the summer of 2012, students from the Schools of Business and Humanities & Social Sciences visited Beijing and Shanghai to conduct market research for K'NEX, a PA construction toy set company that recently adopted an aggressive international growth plan and it is looking to expand into the Chinese toy market. They are pictured here with their professor, Dr. Linghui Tang, who remarked: "This kind of first-hand market research experience is rewarding to both our students and myself."
---
Chris Markulic '13 (marketing) wrote of his Fall 2011 sesmester in Ireland:
"My time in Dublin was life changing in not only my career and personal goals but in my outlook on life. There's a confidence and outlook that you can only gain when you're on your own, navigating through a foreign city, culture, and people and still feel at home. I took classes that ranged from Irish language, history, and culture to management, econometrics, and living in international, virtual spaces; contrary to popular belief I was able to get AHEAD in classes, get internships when I returned, and jump right back into club life with the Leadership Development Program and the American Marketing Association. Beyond the classroom I had the chance to meet with executives, managers, and sales representatives for a Fortune 100 pharmaceutical company (and built some relationships which I'll be looking to build upon for a return trip!). Somewhere between the Cliffs of Moher, Irish executives, and Chrismastime in Dublin I fell in love with the Emerald Isle and cannot imagine having not taking this amazing opportunity!"
---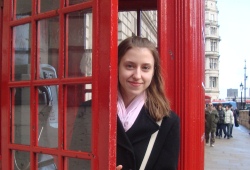 Management senior Kaitlyn Koennemann's international internship
Kaitlyn's summer 2011 internship in London was an incredible experience. "I have no doubt the confidence I gained learning I could travel and live so far away on my own will prove to be a huge asset. It's amazing how something so fun and exciting left me feeling exponentially more prepared for life after college.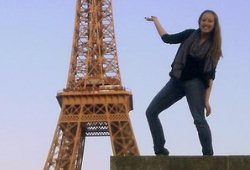 Junior Kristen Duke has a double major in Economics & Psychology
"Studying abroad in Paris has taught me to appreciate, absorb, and truly become part of a vastly different culture, while simultaneously embracing my place as an American. It has been the most consequential event of my life, motivating me to alter my career and life goals."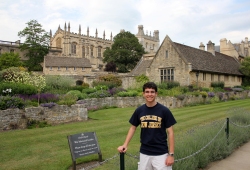 Finance junior Charles Gutch spends Summer 2011 with Oxford Study Abroad Programme
"One-on-one meetings with my professor— tutorials as they're called at Oxford— provided the unique opportunity to examine business issues that were of interest to me. Topics of our conversations ranged from reasons for establishing international business alliances to exploring the implications of a financial bailout in Greece. Perhaps most interesting though, was immersing myself in British life— eating in pubs, traveling by public transportation, and enjoying the wide variety of cultural offerings in England."
---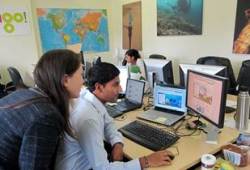 FIE Student Katelyn Klinck '13 takes 2nd place in International Photo Contest
Junior economics major Katelyn Klinck (left) completed a summer 2011 internship with Isango, a travel.com company in London, through the Foundation for International Education and earned second prize in FIE's summer internship photo contest. According to Katelyn, "working and living in London allowed me to experience a global work environment within a distinctly British culture. This facilitated an enhanced awareness that helped me to grow as a student, an employee, and a person."
---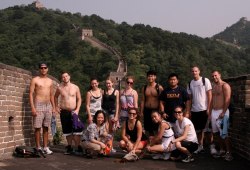 Doing Business in China, Summer 2011 Study Tour
During the summer of 2011, twelve TCNJ students toured Beijing, Shanghai, Hangzhou, and Suzhou Cina as part of "Doing Business in China" with Dr. Qin Shao (history) and Dr. Linghui Tang (finance & international business.)
This two-week course focused on several important international business issues of China, including international trade and investment, marketing, and management. Case studies were provided within the context of historical background and current development in China. The students were required to conduct market research and design a business plan for a New Jersey company to enter the Chinese market. Read more here.
---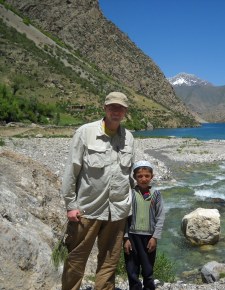 David DeStefano '12 (international business) – Uzbekistan and Tajikistan, Summer 2010
DeStefano said of this Maymester study tour focused on history, culture and economic development: "It was an amazing experience; I got to live and immerse myself in the culture and communities. I studied Islam with local scholars in a post-soviet capitalist society, and the mechanics of interpersonal commerce while seizing every once in a lifetime chance that came my way- whether eating the local cuisine, or climbing ancient ruins in the desolate Tajik mountains. Studying abroad is an experience that cannot be emulated or replaced, and with globalization becoming the standard in business, I know that my experiences will prove valuable in my future endeavors."
---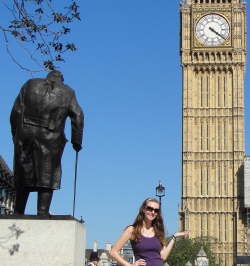 Kathy O'Reilly '11 (marketing) – the Foundation for International Education (FIE), Summer 2010
"As a freshman and sophomore, I took any opportunity available to pick the brains of TCNJ seniors as well as recent graduates. When I asked about their views on study abroad, I found that most of those who did not study abroad during their collegiate career wish they had and those who did, marked it as one of their best experiences as an undergrad. I can now say that I fit in with the latter. During my eight weeks in London this summer, I had the opportunity to absorb English culture in the classroom, out of the classroom, and in the workplace. I held an internship position at a public relations company in central London where I learned to identify and appreciate the little differences between American and English culture. It was one of my most rewarding experiences and I intend to continue to strengthen the professional relationships that I formed during this internship."
---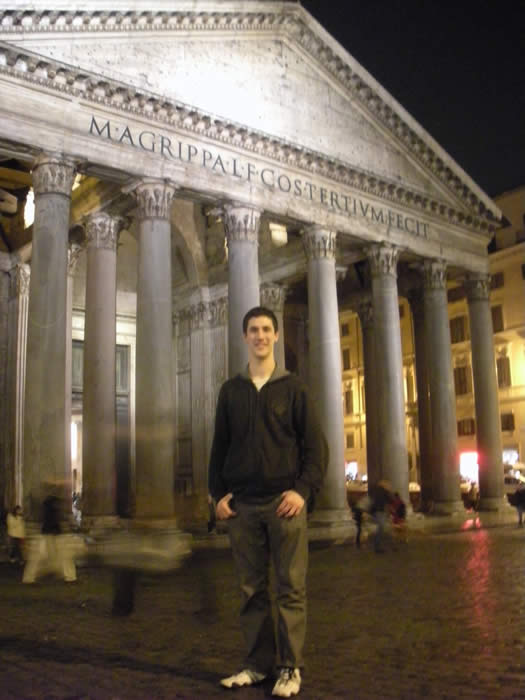 Scott Taylor '10 (finance) – The American University of Rome, Spring 2009
"The ability to study abroad and experience an entirely different culture, all while in school, was a priceless opportunity that I knew I had to take. Initially I was hesitant, but I soon came to feel at home in Rome's beautiful architecture and drastically different culture. Relaxation, I learned, was the key to assimilation. Due to the close proximity of Italy to the majority of European nations, I was able to travel all over Europe while still exploring Rome, and Italy, to its fullest. School classes added to my adventure: my on site classes taught me the hidden meanings behind many of Rome's most prominent buildings and artworks. My experience studying abroad is one I will never forget, and I wouldn't trade it for the world, literally."
---
Chad Ficara '09 (accounting) – The American University of Rome, Fall 2008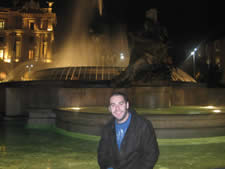 "Studying in Rome gave me a great opportunity to travel across Europe on the weekends while leaving plenty of time during the week to explore the city by both day and night. While the travel itself made my semester a once in a lifetime experience, it was the people I met that made it unforgettable. I truly learned a lot about myself abroad and fresh off that amazing experience my first semester back is shaping up to be the best at TCNJ – making my senior year the best year of my life."
---
Bill Bogert '09 (finance) – University of Sydney, Australia, Spring 2008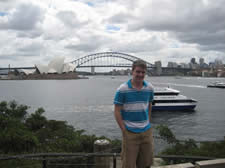 "Studying abroad was one of the best decisions I've ever made. It is unreal to be able to use school as a reason to travel the world. It was interesting to learn in an environment which was different from TCNJ's and also to see how people in other countries perceive America and our businesses. The experience also allowed for plenty of time outside the classroom to explore Sydney and many other parts of Australia."
---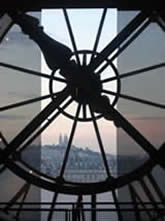 Kayla Geronimo '09 (finance) – the American Business School in Paris, Spring 2008
"Needless to say, my decision to study abroad was the best I've ever made. At ABS Paris, I was able to delve into a new culture, while gaining hands-on international business experience. I come back with broadened horizons, a new appreciation for exploration, a multitude of new friendships, and four months of wonderful memories."
Kayla earned a Certificate of Honor for her semester at ABS, which is awarded to international students who take a minimum of 5 courses and earn a GPA of 3.3 and above.
---
Dan Ragan '10 (finance) – National University of Ireland, Spring 2008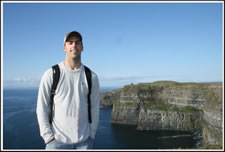 "It's one thing to read about a foreign culture in a book or periodical; it's something else entirely to live amongst it. Unlike studying at a home university, most of the learning takes place outside the classroom […] My suggestion to anyone pondering a semester abroad would be to seize the opportunity– it won't come again. It will definitely be one of the highlights of your college experience and will give you something to talk about for the rest of your life."
---
View archival photos of Dr. Al Quinton's travels to Utmal with TCNJ students in the mid 1990s here.
---
Return to Student Profiles Archive