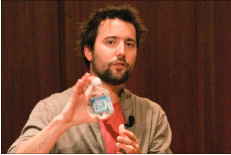 On October 13, 2010 Dean Keep presented Tom Szaky — Founder & Director of TerraCycle — with the School of Business's 2nd Annual Award for Innovative Leadership. A self-proclaimed eco-capitalist, Szaky combines his passion for entrepreneurship with an ambitious, global for-profit plan to reshape how we think about waste. His presentation challenged students to consider the question: What is Garbage?
(Photo courtesy of Karen Young)
TerraCycle is an eco-friendly manufacturer that began in 2001 with a single product of organic fertilizer and now has over 50 products available at leading retailers.
TerraCycle has won many awards and accolades for its environmentally responsible business model from Inc. Magazine, Red Herring, The Home Depot, The Environmental Business Journal, The Social Venture Network, Zerofootprint and many other highly regarded organizations.
TerraCycle has been featured in the National Geographic TV series Garbage Moguls.
TerraCycle sponsors an ambitious up-cycling program designed to divert waste from landfills, by establishing collection campaigns called Brigades, each of which is for a specific waste stream (like the Drink Pouch Brigade, or the Cookie Wrapper Brigade).
TerraCycle has salvaged over 10 million drink pouches, 50,000 energy bar wrappers, two million plastic bottles, and one million cookie wrappers. They participate in waste collection programs with about 20,000 schools.
TCNJ students interested in starting a TerraCycle Brigade should contact Patty Karlowitsch at karlowit@tcnj.edu.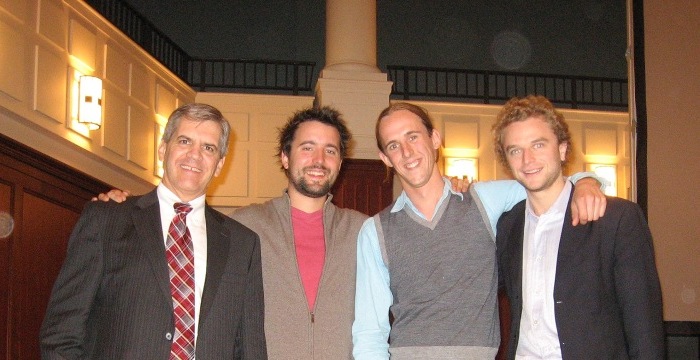 Pictured above, left to right: Dean Bill Keep, Tom Szaky and TerraCycle eco-revolutionaries Albe Zakes, VP for Media Relations and Dan Rosen, Office of the CEO.