On March 17, at the Pi Sigma Epsilon national conference in Indianapolis, Jenny Green won the $1000 ADP scholarship granted to a student planning a career in sales. She also won 1st place in the "Sell-a-Thon" role play selling competition, amongst 88 competitors from over 40 universities. This is the second year in a row that TCNJ took 1st place. Jenny won 1st place in the regional competition last fall. Adam Schumer, won first place last year. One of our other students, Mike Pappas, was among the finalists.
View the Pi Sigma Epsilon press release here.
The TCNJ chapter competed in the "Boss Games" a business simulation game, was one of 4 finalists in the top chapter in the "Amethyst" category, and the "Most Improved Chapter" competition. Josh Rasizer, Mike Pappas, Adam Schumer, Rebecca Rosen, Evan Kita, Jenny Green, and Dan Lisi competed in the sales competition. Lindsay Gardiner, Alexis Servidio, Josh Rasizer, Dan Lisi, and Rebecca Rosen competed in the Marketing Plan competition. All members participated in the top chapter competition.
In the group photo, from left is Josh Rasizer, Lindsay Gardiner (this year's president), Evan Kita, Rebecca Rosen, Jenny Green (next year's president), Alexis Servidio, Adam Schumer, Dan Lisi, and Mike Pappas.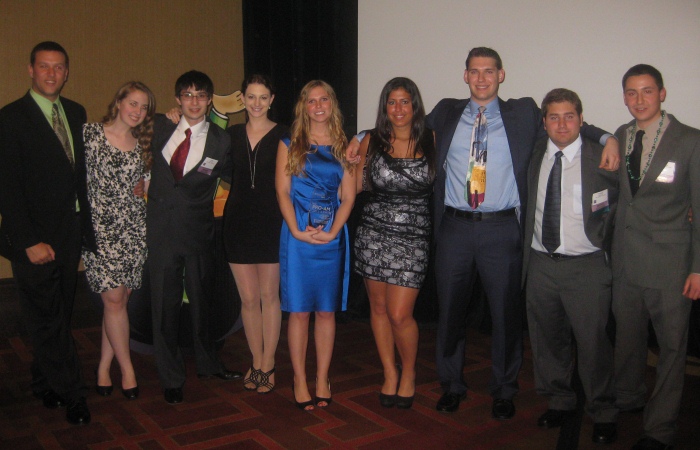 TCNJ students attended the career fair and met representatives from ADP, Paycom, J&J, TEKsystems, Grainger, Mach3, Enterprise, Roche Diagnostics, and other major companies.
Dr. Al Pelham, the PSE chapter adviser, acted as a coach for other university students and a judge in the sales competition, as well as a session chair for the National Conference in Sales Management. 
The strong TCNJ results follow the strong results at the National Collegiate Sales Competition at Kennesaw State University, near Atlanta, Georgia. TCNJ, as a team, tied for 15th of 68 universities competing (58 ranks). Some of the major schools, including large sales programs, who ranked lower than TCNJ included Clemson, Kansas State, University of Toledo, Northern Illinois, William Patterson, Indiana, Ball State, University of Connecticut, and Babson. Companies recruiting at the competition included J&J Lifescan, BD Medical Devices, ADP, Paycom, Reckitt-Benkisser, Cisco, Sage, and thirty other companies. 
Jenny Green ranked 20th as an individual competitor and Zach Friedrich ranked 34th, of 133 competitors (109 ranks). This is our best performance in 6 years competing.