Recent business alumni returned to campus on Oct. 17, 2012 for the the Dean's 3rd Wednesday Panel: "Real Life After TCNJ: Work Experiences of TCNJ Graduates."
The 3rd Wednesday Program is sponsored by the Dean's Advisory Council which is chaired by Rebecca Machinga '92, Partner at WithumSmith+Brown. This particular panel was co-sponsored by Beta Alpha Psi and the Peer Mentors and was moderated by Dave Totaro '99, of PricewaterhouseCoopers. If you have suggestions for topics to be covered, or are interested in hosting an alumni panel, e-mail Patty Karlowitsch at karlowit@tcnj.edu.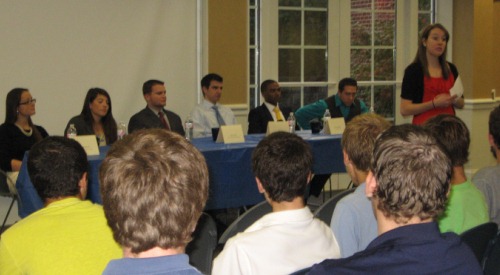 Panelists, seated left to right:
Gina Caradonna '11, MKT, @ Global Graduate Associates
Christine Cox '11, MGT, @ International Planning Alliance
Jason Cantor '10, MGT, @ 2014 NY/NJ Super Bowl Host Company
Anthony Altamura '10, ACC, @ PwC
Marquis McGuffin '10, FIN, @Morgan Stanley
Chris Hansen '12, IDB, @ Novo Nordisk
---
Some highlights:
Gina wishes she had taken more IT classes; that's one way you can really stand out, creating an area of expertise. A lot of people who have been there before you don't really know Excel, etc. Regarding the interview process – it's always different. She had one interview that went on for 4 hours!
Christine wished she had taken Professional Selling with Dr. Pelham. You are always selling yourself, whether it's a job interview, in personal relationships, or a career position. The interpersonal skills that you develop would have helped her by a long shot.
Jason spoke about the book "What Color Is Your Parachute," which can help you find and prepare for the right career path. In some fields it really takes perseverance, especially like sports entertainment where the jobs go to people who know people. You have to network and build your niche.
Anthony stressed that GPA isn't everything. Yes, it's important, but it's also important to network while you're in college and attend events like these that can open up doors and give you another perspective. Get out & participate; opportunities like these are invaluable.
Marquis spoke about the resume and listing activities. They must have value and be substantive, not just a laundry list. If you can't speak to the role you played in an organization, they can see right through you. You never know who will be interviewing you – sometimes it's an alumn of your school.
Chris went a non-traditional route and worked at temp agencies while at TCNJ. When he graduated, he was offered positions at higher than entry-levels because of his experience. Also, you never know who you will be interviewing with – his hiring boss went to TCNJ. Connections happen all the time!