Convicted Felon, former CPA, and former Crazy Eddie CFO Sam Antar speaks out about white-collar crime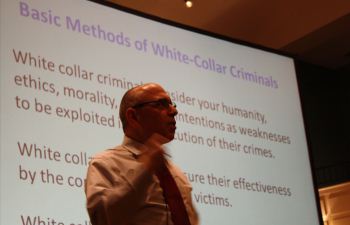 During the 1980's Sam E Antar was the Chief Financial Officer of Crazy Eddie., Inc., a leading consumer electronics retailer in NY. He has since admitted helping to mastermind one of the largest securities frauds of its time, along with the company's co-founders, his cousin Eddie Antar and his uncle Sam M. Antar. Sam E. Antar acknowledges: "This securities fraud cost investors hundreds of millions of dollars, cost many people their life savings, cost many people their jobs and careers, cost creditors hundreds of millions of dollars, and many people's suffering that cannot be measured." Read more here. (Photo Courtesy of Nisha Agarwal.)
In order to avoid prosecution, Antar made a deal with the US Attorney and plead guilty to conspiracy to commit securities & mail fraud and obstruction of justice. He was sentenced to six months of house arrest (along with community service, probation, and thousands of dollars in fines and fees.) Since then, Antar has served as consultant to federal and state law enforcement agencies, on the issue of white-collar crime.
At TCNJ, Sam Antar met first in a closed session with members of Phi Beta Lambda and students studying business ethics and corporate responsibility. For two hours, he discussed not only the major fraud he perpetrated, but the criminal, civil, social and familial repercussions of his actions. Antar was brutally honest in admitting the damages he and his Crazy Eddie co-conspirators inflicted on their victims. While his cousin Eddie Antar did ultimately serve a prison sentence, Sam Antar did not. As he said, he "went from selling appliances to selling information" and walked away with a minimal sentence of house arrest and community service, accompanied by nominal fines and fees.
The White Collar Crime presentation was held later that evening before a packed house in the Mayo Concert Hall. The final question came from a student who wondered if Antar had remorse for his crime. Sam countered "Would you believe me if I said I did? Expressions of remorse mean nothing. Only your actions mean anything."
Dean Keep concurs on the value of Antar's lectures: "Well prepared young people will need to enter business with a sense of what not to do, along with a sense of what to do. Having Mr. Antar share with students his decisions and mistakes at Crazy Eddie's that led to his conviction can be very important."
---
Study Materials:
The Crazy Eddie Fraud: Confessions of a White-collar Criminal

Advice about White-collar Crime: From a White-collar Criminal

Case Study: Overstock Accounting Violations

---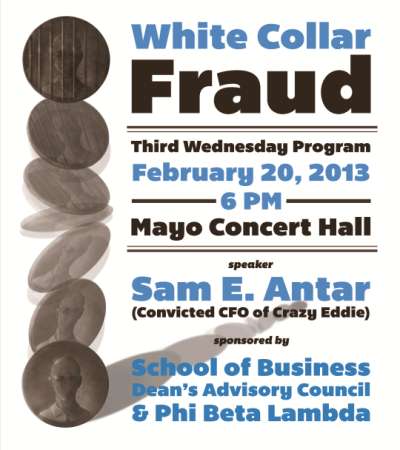 This program was sponsored by the School of Business, the Dean's Advisory Council and Phi Beta Lambda.
See coverage of this event in The Signal: "Ex-con gives advice."
Read more about Sam Antar in Michele Alperin's article "Crime Lessons From A Convicted Felon" in the Feb. 20 issue of US1 Newspaper.
Watch TruTV's Masterminds: Crazy Eddie.
See full press release.
The photos below show Mr. Antar leading a class discussion on business ethics & corporate responsibility (top) and with Dean Keep and members of TCNJ's Chapter of Phi Beta Lambda (bottom.)
---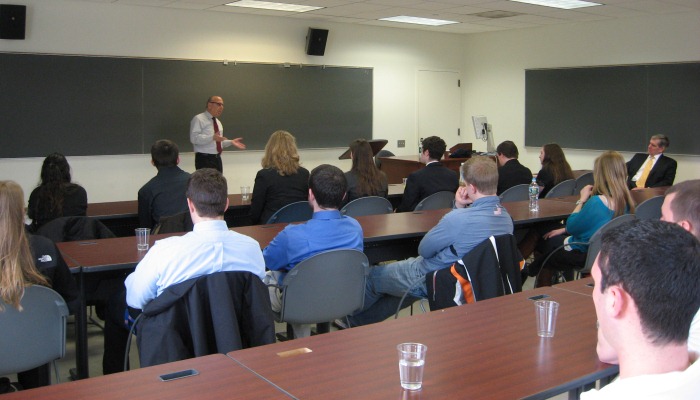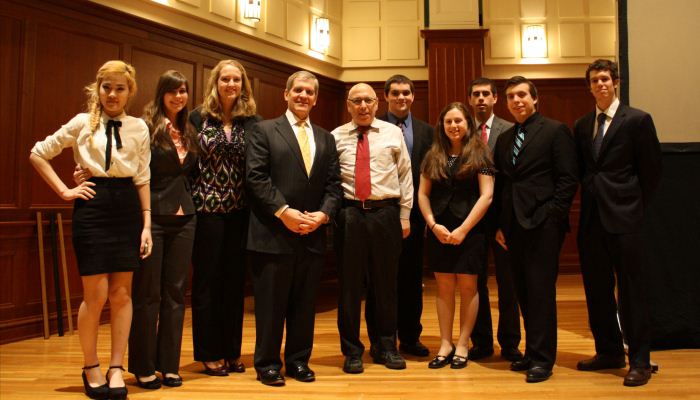 (Photo Courtesy of Nisha Agarwal.)