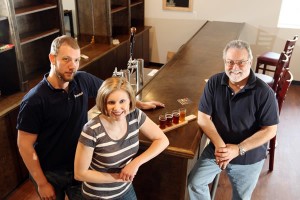 Jacqui Town '08 (marketing, chemistry) and her father Chip have taken their homebrewing hobby to a professional level. In 2010 they established their microbrewery – Rinn Duin Brewing, in Toms River, NJ, brewing traditional English and Irish ales.
The Towns both have business backgrounds in sales, and Chip has been passionately homebrewing for over 15 years. "My Dad and I have been brewing together for years, and our enthusiasm and love for beer is the fuel for our venture. We grew up on the Jersey Shore, and would love Rinn Duin Brewing to become integrated with this great part of the state."
An active member of the School of Business Alumni Chapter, Jacqui has hosted several Alumni Nights at Rinn Dunn Brewing.
For more information, please visit the website: http://rinnduinbrewing.com/.