November 12, 4pm, Kendall Hall:
"The Backlash: How Good Policy Became Bad Politics."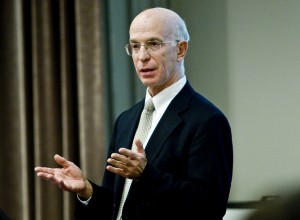 ALAN S. BLINDER is the Gordon S. Rentschler Memorial Professor of Economics and Public Affairs and the founder of the Griswold Center for Economic Policy Studies at Princeton University. He also is vice chairman of the Promontory Interfinancial Network. He served as a member of President Clinton's original Council of Economic Advisers and later as vice chairman of the Board of Governors of the Federal Reserve System. He is a member of the board of directors of the Council on Foreign Relations, and in 2011 he was elected a Distinguished Fellow of the American Economic Association.
Dr. Blinder is the author/co-author of 20 books, including "After the Music Stopped: The Financial Crisis, the Response, and the Work Ahead." He is a regular op-ed columnist for The Wall Street Journal, and appears frequently on television and radio.
Sponsored by the School of Business and the Department of Economics; co-sponsored by the Econ Club. Read about Dr. Blinder's presentation in The Signal: "Blinder analyzes 2008's Great Recession," by Tom Kozlowski.