Seven TCNJ student teams participated in the Annual Case Competition sponsored by Target, with $3000 in prize money awarded to the top three teams. The teams were judged on communication, presentation, innovation, and overall strategy.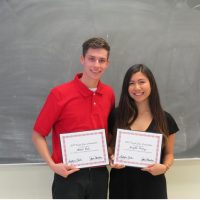 First place team: Emily Atkinson, sophomore, economics and art history; Samuel Reed, sophomore, business management; Brigitte Vuong, sophomore, accountancy.
"Our presentation was about leading Target through change in order to motivate team members which will enhance the customer experience," said Vuong. "We created different incentives to increase the enthusiasm and ambition among employees. Based off of all of our ideas, we hope to create a happy team and a happy guest."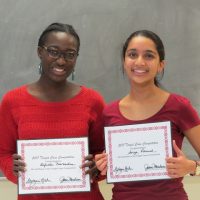 Second place team: Rafiatu Nawuridam, sophomore, international studies; Surya Ramesh, sophomore, international studies. "Our presentation stressed effective communication between store team leaders and team members," said Ramesh. "Also, our strategy stressed rewards, incentives, intra-team competitions, as well as personal and public recognition for the team members and leaders."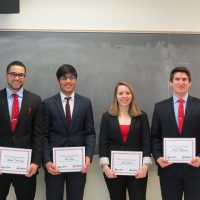 Third place team: Neil Desai, sophomore, finance; Michal Kedzierski, junior, finance; Matthew Marmolejos, junior, finance; Sarah Sartori, junior, interdisciplinary business.
"Our presentation focused on how we could effectively present the new changes to the Target members and upper level management through creative leadership techniques and team bonding games," said Sartori. "This came in the form of a six part plan from effectively communicating through email and the already existing Target leaders, having a variety of training techniques, and an accurate evaluation process.