Two School of Business professors were included in Poets&Quants inaugural Top 40 Undergraduate Business Professors list. The honorees are Dr. Herbert B. Mayo, professor of finance, and Dr. Kevin Michels, professor of marketing & interdisciplinary business.
Of Dr. Mayo, students say, "His teaching style is old school but incredibly effective, making students come up to the board and solve problems during class. He facilitates discussion by not giving the correct answer right away, but rather letting the class problem solve. Dr. Mayo's fun attitude and dedication to making a connection with students make him an excellent choice for this honor."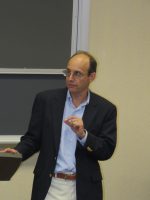 And of Dr. Michels, "It should be noted that there are never enough words nor ways to express my gratitude for this individual in helping me become a better thinker, writer, and global citizen. His contributions to higher education are incalculable, and certainly transcend the general expectations of college students."
"I'm honored by the award.  It's a privilege to teach our TCNJ students," said Dr. Michels.
View the full roster, here.