On September 12, 2017, Enrique Villalón Menocal, professor of accounting and taxation for Trenton State College, passed away in Bala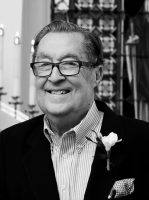 Cynwyd, Pa. He was 90 years old.
Enrique was born in Havana, Cuba, on July 9, 1927, and grew up with his five siblings in Havana's Vedado section. Along with his twin brother, Juan, he attended Baldor Academy in Havana and Saint Aloysius Academy for Boys in West Chester, Pa.
During the years of the Cuban Revolution and its aftermath, that childhood connection with the Philadelphia area, along with other family ties (his maternal grandmother, María Wilson, was a Philadelphia Quaker), would greatly influence his trajectory.
In 1951, Enrique graduated from The University of Havana School of Law. Juan was one of his classmates; Fidel Castro was another.
That year, he also married Rosa Esperanza "Totty" Delmás of Cienfuegos, Cuba, who earned a separate doctorate degree—in education—from the University of Havana. And he joined his family's law firm in Havana.
Over the following decade, Enrique and Totty had four children, María Rosa (1953); Elisa Delmás (1955); Enrique Javier (1957), and Lucía Delmás (1959). They attempted to assist Castro in ousting Cuba's then-fascist dictator, Fulgencio Batista, in hopes of bringing democracy to their country. And they became exiles twice.
Caught supporting Castro's troops in 1957, the couple was jailed by Batista, then granted asylum in the United States. The Menocal family lived in exile near cousins in New Jersey, with Enrique commuting to New York to work as an accountant until Castro successfully ousted Batista.
Before being formally installed as prime minister, Castro asked Enrique to join his cabinet as director general of revenue and taxation, through which he would lead the Cuban Sugar Institute. Enrique accepted, and later that month—January of 1959—the young Menocal family moved back into its family estate in Havana.
Over the following year, Enrique was hit with the reality of Castro's intentions. Disillusioned, he arranged for his family to escape the country via one of the last ferries to Key West, Fla., in October 1960.
The Menocals again were granted asylum—and eventually citizenship—in the United States. After briefly living in the Chestnut Hill neighborhood of Philadelphia, they settled in the Main Line suburb of Wayne, Pa.
While Totty established herself as a Spanish teacher at Radnor High School, where she would remain for decades, Enrique worked as a legal consultant for Shulton Industries (maker of the Old Spice cologne) in New Jersey and then as a professor of accounting and taxation, first at Drexel University and then at Trenton State College (now College of New Jersey).
Upon his retirement from TSC in 1992, Enrique was awarded the status of professor emeritus. And throughout their retirement years together, the couple, affectionately known by their grandchildren and great grandchildren as Papi and Mami Totty, indulged in visits from friends and family, cultural outings, and travel.
Although they never returned to Cuba, Enrique and Totty spent most of their summers in the Caribbean, on the U.S. Virgin Island of St. Croix, where they frequently biked the coast and snorkeled. They adorned nearly every surface of their house in Wayne with tropical art, shells, and plants. And they often served excellent Cuban dishes and drinks.
Over the past few years, Enrique has made many friends at the Hearth at Drexel. He has warmly welcomed visitors and FaceTimed with family farther afield. He has taught a number of people, including his great grandchildren, how to play dominos. And he has enthusiastically watched many of his granddaughter Ashley's tennis matches.
Enrique's wife of 64 years, Totty, died in 2014. His oldest daughter, María Rosa, died in 2012. He is survived by his brothers Juan and Jorge; his 3 younger children, Elisa Menocal, Enrique Menocal, and Lucía Pernot; 11 grandchildren; and 9 great grandchildren.
A memorial service for Enrique will be held on November 11 at 2 p.m. at the Hearth at Drexel, 238 Belmont Ave., Bala Cynwyd, Pa.