Recently, groups of students participated in the Fall 2017 PricewaterhouseCoopers (PwC) Challenge Case Competition. Overall, 45 students participated and two teams were selected by a panel of PwC judges.
The first place team, DSP, comprised of Devin Errico, Elizabeth Kelly, Nicole Mikitskiy, and Kyle Rice. Caroline Aboff, Mark Doughten, Dominic (Tony) Morency, and Joriam Rivera made up the second place team, Big Baller Brand.
Below, competitors share their thoughts on participating in the competition.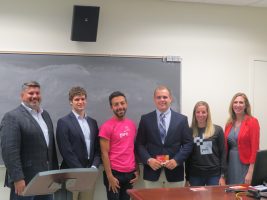 Tony Morency (freshman, finance/economics): My experience was great with this PWC case competition. It was my first one, being a freshman. At first it was a bit intimidating. I joined a group with three strangers, and so was very curious about my team. I didn't know how much work the case entailed or what to expect from my team members. They all met my expectations and then some. Every member was intelligent and added something different to the presentation and overall understanding of the project. They all were respectful, organized, and motivated. We built relationships over the course of the project and got to know each other better. We will likely do another competition in the future. The actual project itself was interesting to say the least. There was a lot to the process of coming up with a solution for the case competition prompt, but I was open minded and dedicated. I am a finance major and both of my parents are entrepreneurs. My brothers are business majors too, and so I enjoyed learning about the different parts of business that were involved in creating a solution to the competition prompt. Marketing, management, finance, and creativity in solutions were all present. I loved being able to talk with my family and friends about the competition to evaluate different suggestions on how to solve the question of expansion most effectively. The project also helped me refine my skills in data researching, decision-making, and presentation skills. The PwC reps were all very nice and gave meaningful feedback on how my group could improve. PwC is a company I would love to work for in the future. It was overall a great experience doing the competition, meeting the reps, getting to know more about PwC, and making new friends. It will most definitely not be my last competition here at TCNJ.
Devin Errico (sophomore, accounting): The experience was overall very rewarding in both of educational and monetary incentives. I felt as though I applied some of what I had learned here at my TCNJ business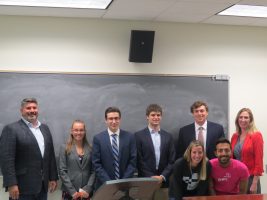 classes which gave us an edge on the competition (compared to the freshmen). My responsibility was to create the entirety of the PowerPoint, which was a time-consuming process that took roughly 10-15 hours alongside my group. However, all that we read about, both the mock-website and external sources captured our interest–whether it be learning about technology or comprehending financial information, we found it to be an enjoyable experience nonetheless. As for the presentation itself, it was very straightforward with the judges and I really appreciate the fact that they gave feedback towards the end.
Elizabeth Kelly (sophomore, economics): The PwC Competition was an amazing experience. I had the opportunity to work with my fellow brothers from Delta Sigma Pi, to brainstorm ideas and create a well thought out business plan. I enjoyed working with different majors because we were able to look at the issue in different ways and come up with diverse solutions.