Women's Summit at TCNJ by Aury Cifuentes, President, Women in Business
The Women's Summit is always a wonderful conference in which alumni, executives, faculty, and students can learn something new in a day filled with workshops and speakers! This year the focus was on achieving more with "less" and it was a great topic since it resonated clearly with a group of motivated women.
As a student attendee on behalf of Women in Business for the past two years, I can say meeting alum from the various panels and tables is always a highlight for me. Whether we describe TCNJ or Trenton State, it is always inspiring to learn from women who graduated and found success running their own business or working for their dream firm. The topics of conversation almost always include work-life balance, future career ladders, and anecdotes on the way the college has changed over the years.
Likewise, the workshops have to be my next favorite portion as they are not only informative but also practical. Additionally, every year we are lucky enough to have a student session with the keynote speaker open to the entire campus and it's always great to contrast the amazing keynote with the amazing student chat halfway through the conference. This year Tiffany Dufu unleashed her best advice for students on figuring out our "ask" and leadership potential in our undergraduate career to set us up for a bright future. Tiffany was very specific about establishing a routine and being selective with our free time as that advice could apply to any student juggling various leadership positions or just overwhelmed with too many interesting projects.
Overall, as an attendee there is always a new connection or lesson learned at the Women's Summit. I look forward to attending in the future as an alumna and continuing to support a great local initiative that mobilizes various women of all backgrounds to reach their full potential.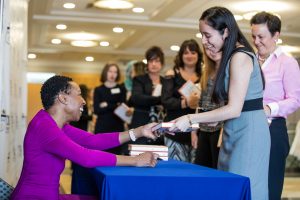 Read The Signal's Summit coverage, here.