---
Kaelyn DiGiamarino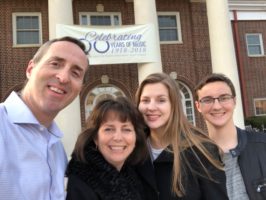 Kaelyn graduated with a BS in Business Administration/Marketing and a minor in International Business. In July, Kaelyn will begin working at Bristol-Myers Squibb's Marketing Rotational Program in Princeton, NJ, but not before taking a backpacking trip in Portugal with friends in June. "My favorite experience at TCNJ was studying abroad in Prague, Czech Republic my sophomore year."
Kaelyn's parents, Carolyn and Craig DiGiamarino, also attended TCNJ, both graduating in 1990. Carolyn double majored in Early Childhood Education and Psychology and Craig earned his BS in Business Administration/Finance. Both mentioned eating lunch at the Rat as one of their most memorable experiences at TCNJ and were equally stunned by the new, "beautiful" buildings that have since been built. "I'm happy to be able to share this important piece of our lives—college—and to have another tie that binds us together as a family," said Craig.
---
Madellyn Stoner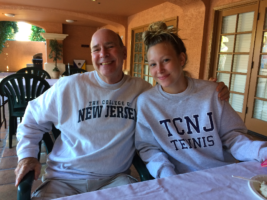 Madellyn graduated with a BS in Business Administration/Marketing and a minor in Communication Studies. This summer, Madellyn will be traveling and playing lots of tennis, then later in the fall, she will be pursuing a career in sports management.  When asked about her favorite memory at TCNJ, Madellyn cited being a NCAA all-American doubles player in the Fall
2016 semester and getting to compete at nationals in Arizona.
Madellyn's father, Scott Stoner, graduated from TCNJ in 1979 with a BA in English. Scott is now director and attorney at Schatzman Baker PC in Princeton, NJ, specializing in litigation. But the legacy goes back even further than Scott: "Maddy's graduation from TCNJ makes her a fourth generation graduate of the college. Her great grandmother Flora Scott graduated before World War I when it was called The Normal School. Both of her grandparents, Bill (1942) and Pat Stoner (1941), graduated TSC (Trenton Stat
e College) and served during World War II. Bill was the captain and played number one singles on the TSC tennis team. Pat was an education major and taught in the Trenton School System for about 20 years." Both Bill and Scott Stoner are inductees in the Mercer County Tennis Hall of Fame!
---
Emma Van Der Heide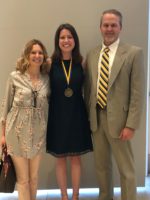 Emma graduated with a BS in Business Administration/Finance and a minor in Political Science, and is an Honors Program Scholar. Emma has accepted a full time position as a financial analyst within the Global Finance & Business Management Analyst Program at JPMorgan Chase & Co. She is also a candidate for the CFA Level 1 exam, which she will be sitting for in June 2018. She plans to complete all three levels by June 2020. "Some of my favorite memories over the past four years include late nights with my best friends and sorority sisters, long days taking over the Financial Learning Center to study with classmates, and hanging out with my favorite professor, Dr. Mayo."
Emma's parents, Jennifer Serra and Matthew Van Der Heide, graduated from TCNJ in 1996, Jennifer with a degree in English and Secondary Education, and Matthew with a degree in Law and Justice. Jennifer is the lead technical editor for Innovation and Standards, Enterprise Learning at Automatic Data Processing, Inc. (ADP) where she implements innovative practices to support modern learning instructional design development for corporate learners. Matthew is a management and program analyst for the US Department of Homeland Security, US Citizenship and Immigration Services. Matthew works in the Management Directorate analyzing agency policy and business requirements and acts as the liaison and project manager when implementing legal, financial services, and IT changes related to application findings. When asked about their favorite memories at TCNJ, Jennifer remarked, "taking a course with my favorite professor, Dr. Carney, every semester. (I think of her every time I watch an episode of "The Handmaid's Tale" on Hulu!) For Matthew, he fondly remembers hanging out in Cromwell, attending sporting events, and fishing on the campus lakes. Jennifer and Matthew expressed words of praise and admiration for daughter Emma, both remarking on her willingness to embrace college life and all the opportunities TCNJ has to offer.