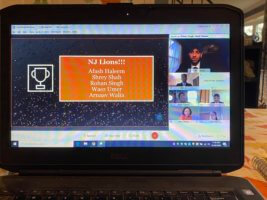 On October 28, 2020, TCNJ hosted the PricewaterhouseCooper (PwC) Case Competition Challenge, a campus-wide event that allows students to form teams to focus on creating strategies for business-model issues. 
The winners include Afash Haleem, a sophomore biology major, Shrey Shah, a sophomore biology major, Rohan Singh, a sophomore biology major, Waez Umer, a sophomore biology major, and Arnaav Walia, a sophomore economics major. 
"We are all very grateful that TCNJ's PWC Case Competition was able to run this year despite the Coronavirus pandemic," said Rohan Singh. "Because of the virtual nature of the event, we were able to learn important skills about presentation delivery and slide deck design for this format."
The competition tests the student teams through the following three key criteria: critical thinking, collaboration, and communication. Freshmen, sophomores, and juniors in a five year program were eligible to participate.
"PwC presented us with an intriguing, timely case which allowed us to expand our knowledge on sustainability efforts and product-market fit," said Singh. "Although this will be the last year we will be able to compete in this competition, we look forward to other learning opportunities through PwC and TCNJ." 
The TCNJ Alumni judges included Curt Monday, Matt Scorzo, Jennyfer Bruno, and David Totaro.
"We extend a huge thank you to the PwC representatives, our mentor Courtney, and TCNJ's School of Business for hosting this event," said Singh.