The School of Business celebrates this year's 12 Blue and Gold Hall of Fame inductees. Each year, the Blue and Gold Hall of Fame inductions honor a select number of TCNJ students who have demonstrated exceptional leadership and service. For 2021, the School of Business is proud to claim two inductees: Rupak Doctor, a Marketing and Communications student, and Shannon Devitt, an Accounting student with minors in both Finance and Information Systems Technology.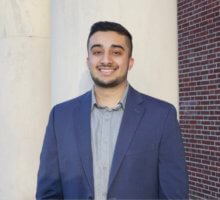 Over his four years at TCNJ, Doctor has been trying to define leadership. "I first thought it was a person who holds a position of power," he said. "Then I thought it was someone who makes a difference in the world or who empowers others." Eventually, Doctor realized there doesn't need to be a definitive label. "With this in mind, I hope to move up in my career and strive to be the best leader I can be for myself and others," said Doctor. With leadership experience as an orientation leader, business peer mentor, and student center manager, Doctor especially advises everyone to prioritize goals based on importance. "Try to focus on the bigger things first and ask yourself how necessary each agenda item is," he said.
Doctor reflects on Marketing and Public Policy with Professor Karen Becker as a memorable course during his time at TCNJ. "It's hard to comprehend how marketing can play a part in sustainability and community relations. This class showed me that I can be effective in social change as a marketing major," said Doctor. He said receiving the Alyssa Ruggieri Research Scholarship, after three semesters of research in sustainability and diversity, has been his favorite memory and highlight from college. "I felt so much pride and accomplishment in my ability to make a difference in the world."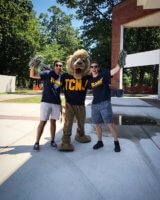 Doctor emphasizes the importance of not tiring yourself out. "College is about balance," he would tell everyone, especially his freshman self. "For the next four years, accomplish so much in your co-curriculars, but don't let it take away from your social and academic life. You have so much time to succeed, but only four fleeting years of college!"
After graduation, Doctor has plans to work as a Sourcing Excellence Analyst at L'Oréal. He intends to earn a master's in supply chain management. An avid traveller, Doctor also hopes to continue exploring the world, an ambitious goal considering he has already visited 13 countries and driven cross-country to California with his siblings.
---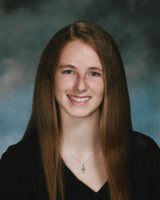 "I have been able to experience so many wonderful experiences at TCNJ. I've met so many great people who I know will be in my life forever," said Shannon Devitt, the other School of Business Blue and Gold Hall of Fame inductee. As Co-President of Beta Gamma Sigma, a captain of the varsity women's basketball team, and an advancement intern for the Athletics Department, to name a few positions, Devitt has immersed herself in leadership and service through various organizations at TCNJ. "As an active member of campus, I don't do activities just to be recognized or feel important," said Devitt, "I do them to connect with my peers and create beneficial experiences for everyone."
Devitt shares that her academic goal at TCNJ was to gain as much from her experience as possible. "I work really hard in the classroom to learn rather than just memorize the material." She says that Operations Management was the most memorable class she has taken in the School. "There were so many concepts in this management course that could be applied across all disciplines."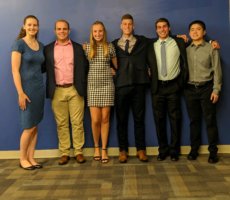 For her future plans, Devitt has accepted a position at PricewaterhouseCoopers in the assurance practice. She advises everyone to work hard and it will pay off in the end. "Enjoy the small moments along the way, but if you work hard you will be successful in what you set your mind to."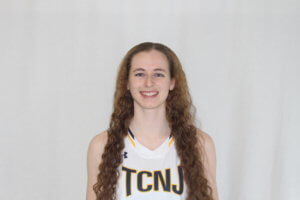 When reflecting on her time at TCNJ and her recent induction, she comments that it was never something on her radar or that she thought would be possible. "The induction has just been a byproduct of the hard work I put in everyday and I am extraordinarily humbled by it."