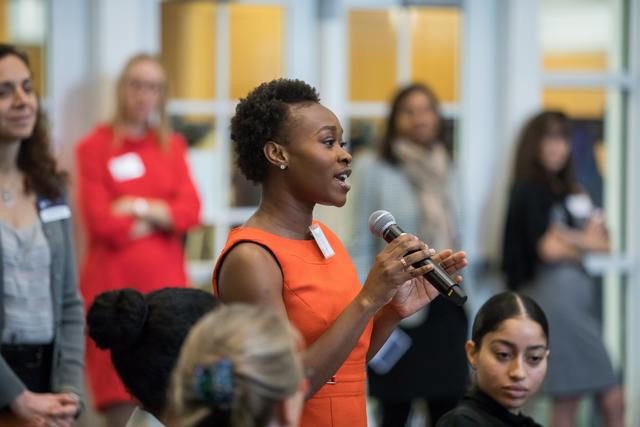 The 13th Annual Women's Leadership Summit will be held on Wednesday, November 1 from 9 a.m.–2 p.m. in TCNJ's Education Building, Room 212. The summit is a networking event that brings female business leaders from around the country together for interactive workshops and to share stories of their career paths with TCNJ students, faculty, and staff, as well as local business owners and other community members.
An impressive lineup of speakers is slated for this year's event, including diversity, equity, and inclusion influencer, Dima Ghawi, as the keynote presenter. Ghawi has extensive corporate experience, and has worked for a number of Fortune 100 companies such as IBM and Merrill Lynch. In 2017, she published a memoir, Breaking Vases, an account of her Middle-Eastern childhood and her business career.
"We want everyone to be inspired in some way and gain valuable takeaways for immediate consideration," said Tammy Dieterich, interim dean of the School of Business and member of the TCNJ Women's Leadership Summit Committee. "In debating top recommendations for 2023, we unanimously agreed Dima delivers on both of these priorities through her story of shattering limitations."
Other speakers include Nicole Pulliam, founder and CEO of Real & Worthy; Jaqueline Silverstrov, head of WOW! Colleague Experiences, Engagement, and Appreciation at TD Bank; and Elisa Torres, director of commercial education at Johnson & Johnson.
"Our students gain networking experience with over 100 professionals from a variety of industries and backgrounds. Each individual in the room brings their own life lessons and expertise to the day while modeling the importance of continuous learning and investment in yourself," Dieterich said.
The event is sponsored by Johnson & Johnson, NJ Small Business Development Center at TCNJ, and Mercadien.
Register online at wls.tcnj.edu.
---
— Corinne Coakley '25