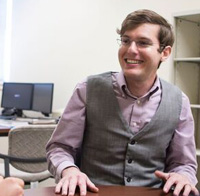 Richard Baker, Professor of Economics, and his co-author Robert Margo of Boston University, were awarded a 2016 Spencer Foundation Grant for their research on Race, Family Background, and Educational Attainment in the Early Twentieth-Century South. The Spencer Foundations mission is to "to investigate ways in which education, broadly conceived, can be improved around the world." Read more here.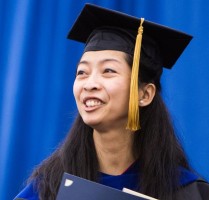 At Commencement, Beta Gamma Sigma members presented Faculty Awards on behalf of the Senior Class to:
Professor Herbert "Buddy" Mayo – Most Engaging Classroom Environment
Professor Maria Domingo (at left) – Most Inspirational Instructor
Professor Joyce Vincelette – Most Helpful Advising
Professor Karl Peterson – Virginia Dietrich Award for Excellence in Teaching
Read more here.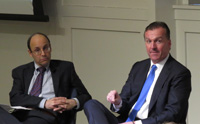 Professor Kevin Michels (l) and the School of Business Center for Innovation and Ethics hosted Bob Egan (r), President of Victory Packaging, for a conversation about "Ethics, Innovation and Leadership" – part of the Center's Personal Journeys series. Read more here.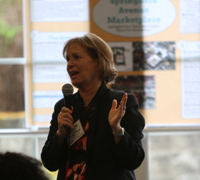 TCNJ business students in finance Professor Susan Hume's class presented their research on social impact bonds and how those investments could be pursued in the city to members of the Trenton Area Stakeholders. "The concept, Hume explained, involves a government entity teaming up with an intermediary that identifies a service provider, develops a program with specific, measurable goals and raises the capital from private investors or philanthropic foundations." Read more in The Times of Trenton.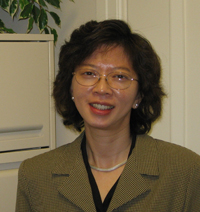 Accounting Professor Bea Chiang (left) and Marketing Professor Al Pelham (below) co-authored "Environmental Costs, Social Responsibility, and Corporate Financial Performance – A Closer Examination of Japanese Companies" with Yuko Katsuo, at the School of Economics, Gakushuin University, Tokyo. This appeared in the American Journal of Business Research, Vol. 8, No. 1, 2015.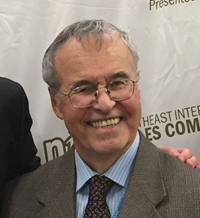 Dr. Al Pelham regularly invites guest speakers to his marketing and professional sales classes. In February, alumni George Guhr '09, Sales Manager for Internet Creations and Matt Nugent '11, Regional Sales Consultant for Modernizing Medicine, discussed their job seeking experiences and career paths. IMB and Xerox reps have also joined the roster, due to the excellent reputation of our students in competitions and as new hires. Students of all majors are welcome to drop in to any of these talks; see the full list here.          
Spring Research Colloquium
The School of Business Research Colloquium is coordinated each semester, by Economics Professor Michele Naples. On April 13, the following papers were presented:
Richard Baker – "School Resources and Labor Market Outcomes: Evidence from Early Twentieth-Century Georgia"
Tae-Nyun Kim – "Are Mergers and Acquisitions Beneficial for Financially-Constrained Firms?"
Kevin Michels – "The Structural Problem with Corporate Lawyering"
Research Assistants
Each year, the School of Business faculty invite up to 20 students to participate in paid Research Assistantships, working collaboratively with full-time faculty on peer-reviewed research. Students earn up to $1,000, and frequently present their work at the TCNJ Celebration of Student Achievement as well as relevant national conferences.
Examples from projects this year:
Economics faculty Dr. Donka Mirtcheva is collaborating with a research assistant completing an examination of the relationship between religion and asset/debt portfolios before and after the Great Recession of 2007-2009.
Management faculty Dr. Brenda Ghitulescu and a research assistant are collaborating on a conceptual paper that examines the impact of mentoring relationships on protégé creative performance.
Two students are working with Accounting faculty Dr. Hossein Nouri on "Factors Affecting CPA Exam Pass Rate," exploring the effects of AACSB accreditation, private vs. public schools, school degree offered, and region.
Fall 2015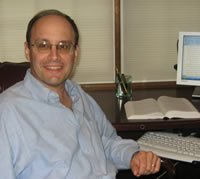 Kevin Michels, Director of the School of Business Center for Innovation and Ethics, was interviewed by Karen Kroll for an article on corporate investigations, titled "Refresher Course on Discipline of Good Investigations" in Compliance Week (August 4, 2015.)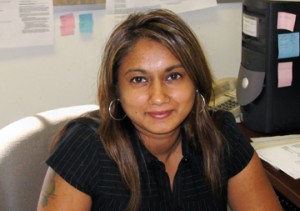 Waheeda Lillevik, management professor and advisor to the Society of Human Resource Management, is spending the Fall 2015 semester in Heidelberg, Germany, with 21 TCNJ students. This program is offered through the European Study Center and SRH Heidelberg in the financial hub of Germany, the European Union's most powerful member and the heart of European history and culture. Read more about the Heidelberg study abroad program here.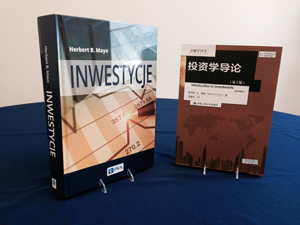 Finance professor Herbert "Buddy" Mayo's "Intro to Investments" textbook (11th edition) was published in Polish in 2014 and in Chinese in 2015. Congrats to Dr. Mayo on over 30 years of teaching and inspiring students at TCNJ!
The School of Business welcomes three new faculty members to our roster:

Richard B. Baker – Fields of Interests include: Economic History, Labor Economics, Development Economics, and Applied Econometrics

Tae-Nyun Kim – Research focused on: Empirical Corporate Finance (Capital Structure, M&A, Corporate Governance) and Banking

Trevor O'Grady – Research Interests: Environmental and Natural Resource Economics, Public Goods, Applied Econometrics, Development Economics, and Economic History
Summer 2015

Accounting program ranked #20 in US: A recent posting on Accounting.com lists the top 50 undergraduate accounting programs in the country with TCNJ @ #20. Congratulations to the accounting faculty for creating and sustaining such a successful program.

Marketing Professor Louis Tucci and co-authors published "An Analysis of Consumer Motivations for Purchasing Fair Trade Coffee" in the Journal of International Consumer Marketing" (Volume 27, Issue 4, 2015.) The study investigates factors influencing the consumer's decision to purchase Fair Trade coffee to be made at home, with a focus on what can be done to maintain the core values of fair trade while expanding its scope.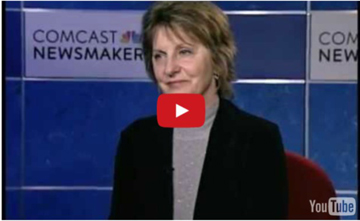 Lorraine Allen, Regional Director of the Small Business Development Center, recently sat down with Jill Horner of Comcast Newsmakers to give an overview of all of the services the SBDC offers the greater Mercer County area business community. View the video interview here. Read more about the SBDC at TCNJ here.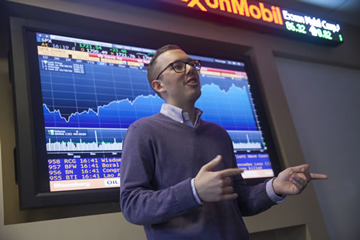 This summer, The TCNJ Business Institute premiered, under the purview of Vice Provost Dr. Chandru Rajam. The five-week intensive program for non-business majors was developed and is taught by business faculty. Students can opt to complete the program for-academic-credit or not-for-academic-credit. Read about the program and courses here.