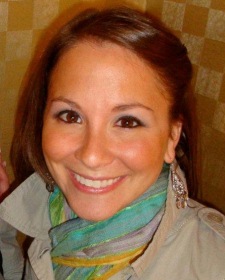 Marketing graduate Randi Sigman '03 recalls, "At a career fair during my sophomore year, I stopped by the L'Oreal Paris table, where I spoke and was granted an interview by one of the HR recruiters that attended. That interview led me to my very first internship with L'Oreal in NYC, and ultimately helped me secure a full-time job with them after college. I was accepted as a part of a rotational trainee program with L'Oreal in Sales, where I was able to gain cross-functional experience in various facets of the L'Oreal Sales Department.
Knowing that the value of an MBA is so critical, particularly when the economic marketplace is strained and jobs are harder to come by, I always knew that I'd want to continue my education. I was pleased to learn that L'Oreal offered tuition assistance. I began my MBA program at Baruch College in NYC part-time, and while it was challenging to juggle school, work, and my personal time, I made it work and believe it was worth the time and effort.
I've been working for the last 5 years as Senior Account Executive for Universal Studios in their Home Entertainment Division (a division of NBC Universal). I sell all of the Universal Studios film and select NBC TV product on DVD and Blu-ray to several retail accounts, dealing with the buyers at headquarter level. It's been a fun journey and I love selling products that are adored by all…movies! My main role with Universal is to get our biggest blockbusters placed in prime locations in stores, with exciting consumer offers that are advertised in circular, online, or via social media. However, Universal's vast catalog of older content and classic films is something I'm charged with promoting at my customers as well. It's a job that requires creativity since many of our titles have been seen again-and-again by movie lovers. Making an older title relevant and inciting the consumer to purchase for maybe a second or third time is just part of the fun. Sales Meetings, where acting talent and well-known film makers have been known to come and speak to our team about upcoming movies we release, is also exciting. I enjoy what I do and hope that as this industry changes from physical to digital with the continued adoption of electronic sell-through, streaming, and the like, that I am fortunate enough to learn and grow with it."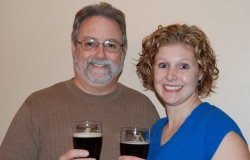 Jacqui Town '08 (marketing, chemistry) and her father Chip have taken their homebrewing hobby to a professional level establishing Rinn Duin Brewing in Toms River NJ, brewing traditional English and Irish ales. Both have business backgrounds in sales, and Chip has been passionately homebrewing for 15 years. The Town's have been living in Ocean County for 25 years, and are proud for their brand to have roots in their local community. Jacqui, who is active in the School of Business Alumni Chapter, is grateful for her training at TCNJ: "I wanted to thank Dr. Pelham and the faculty at TCNJ for your support both over the last year and while I was a student. After the bank reviewed our business plan, they asked my dad if we hired a professional to write it. He said (proudly, he admitted!) 'No, my daughter wrote it.' " For more information, please visit their website: http://rinnduinbrewing.com/.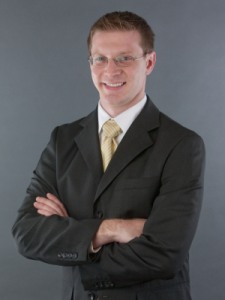 After graduating in 2004, Jason McGrath turned a market research internship with Opinion Research Corporation in Princeton into a full-time position, where he built a strong background in corporate market research for global, Fortune 100 clients. McGrath now is a Vice President with StrategyOne in Washington, DC, leading a team of researchers to provide strategic, research-based consulting services directly to the C-Suite of many of the world's largest global companies. "Every day brings a new challenge or crisis, and the opportunity to work for companies in all different industries. The real thrill is being able to learn something new every day, and being able to counsel my clients based on the findings of our research."
McGrath has been guest speaker on several occasions. In April 2011 he presented at the University of Arkansas Center for Food Safety; in November 2011, he spoke at the International Finance Corporation in Kiev, Ukraine on the importance of building consumer trust and confidence in the food and beverage space.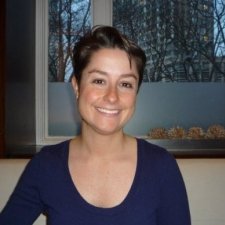 A summer internship at the world's largest beauty company turned into a career that has spanned 10 years for Kellie Miller, a 2001 Marketing Graduate. In her current role as Key Accounts Manager for L'Oreal, Kellie is responsible for over $20 million dollars in sales. Her career path at L'Oreal provided a comprehensive view of the sales organization, from working internally with sales senior management at L'Oreal's 5th Avenue New York Headquarters, to relocating to Washington DC in order to develop accounts in Virginia, Tennessee and the Carolinas. In 2008, Kellie earned her MBA at Fordham University in Marketing. The most compelling aspects of L'Oreal are the passion, people and products of the company. L'Oreal's slogan: "because you're worth it," really embodies the spirit and drive of employees and ultimately challenges you to live up to your potential.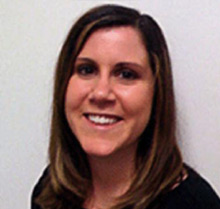 Heather Sigman '01 found her internship at HCD Research through TCNJ's career fair and was offered a full time opportunity upon graduation, as a market research analyst. Sigman's many successes led to positions as project manager, and ultimately the role of director of project management. After 8 years with HCD Research, she joined Epocrates as an account manager to help develop a new market research product. As the product grew and became more and more successful she was promoted to manager of the client services team, managing a team of account managers.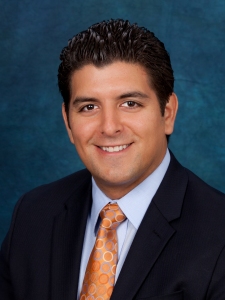 Nathaniel Torres '01 attributes much of his success at Johnson & Johnson "to the leadership and organizational skills […] learned and developed in various positions as part of Lambda Theta Phi, Latin Fraternity Inc. (secretary and president); Union Latina (secretary and president); Community Advisor and Student Manager in Residence." After interning at Janssen Pharmaceutica, he entered J&J's Professional Leadership Development Program in Janssen's Commercial Planning and Operations. Along the way, Nate completed his MBA in Global Business at the Thunderbird School of Global Managemet. Earning several promotions and internal awards, he has relocated frequently, and currently lives in Miami, where he serves as Executive Account Representative for Advanced Energy with J&J's Division of Ethicon Endo Surgery.
---
Jeffrey Walsh '06,  Strategic Sales Manager at Hewlett-Packard, remembers Dr. Pelham encouraging him to get involved with the sales competition:  "This gave me an opportunity to practice my sales techniques as well as network with other professionals.  During the time I attended the sales competition I met with multiple companies and one of them, HP, stood out to me.  I provided my resume to the recruiter and worked with him in the upcoming months to find the perfect fit for me at HP.  With my knowledge from TCNJ and success networking I have moved up the HP ladder and am now covering multi-million global deals."
---
return to the Marketing Program Overview
---