Throughout the year, alumni participated in five on-campus discussion panels, a speed-dating style networking event, and this past March alumni and students attended a very special evening hosted by JPMorgan Chase. In addition, alumni have met with students in smaller groups (2-5) for lunch and office tours.
3rd Wednesday Program – Each academic year, the Dean's Council for Student Engagement hosts 3rd Wednesday panel discussions covering topics such as:
Nailing the Interview
Navigating Organizational Politics
Networking and Social Media
Things to remember Your First Year on the Job
Personal Finance: Now and Later
Women and Work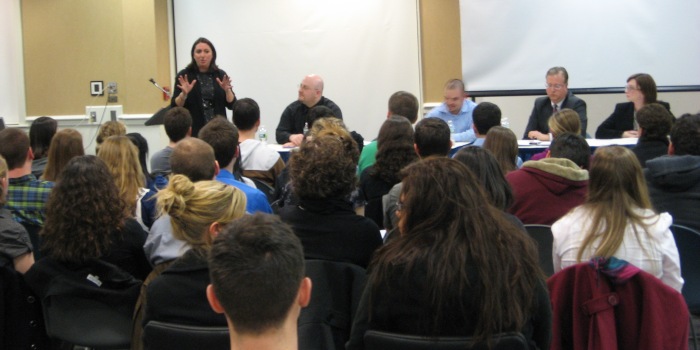 ---
Speed Networking Program, November 11 –
Business professionals, many of whom were alumni, participated in this innovative program for juniors and seniors in TCNJ's Loser Hall. Students who rotated among the tables had an opportunity to network with a wide range of professionals.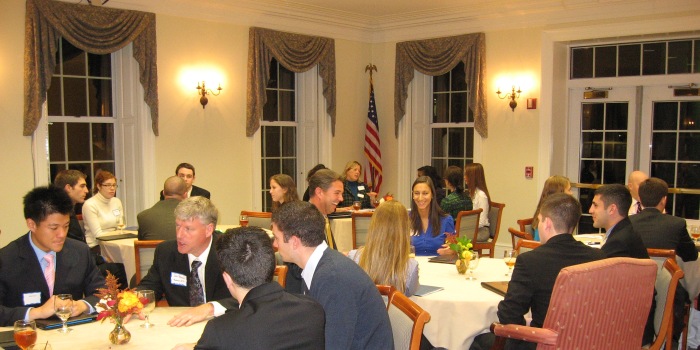 ---
JP Morgan Finance Forum, March 23 – Twenty-six alumni and 97 students attended the panel discussion and reception hosted by Guy Chiarello '81, CIO JPMorgan Chase. Panelists included Stephen Berenson, Vice Chairman of Investment Banking at JPM; Tejal Joshi '01, VP Lehman Holdings; Mike Movsovich '86, Partner at Kirkland & Ellis LLP; and moderator Paul Sullivan '85, Managing Director at Merrill Lynch.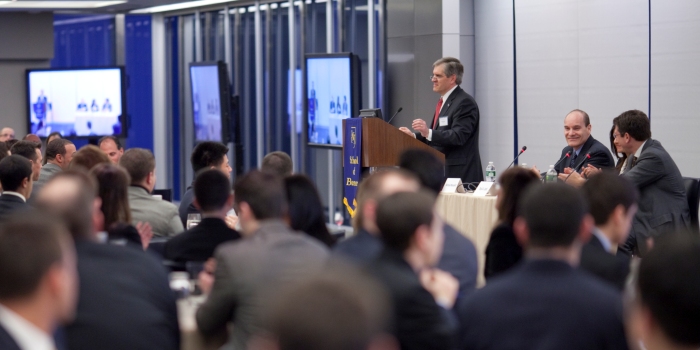 ---
NYSE Tour, April 25– Tom Sabroe '88, VP Finance for Broadridge Financial Soultions, Inc., invited business students for a personal tour of the floor of the exchange, where they watched the opening bell and met with a market maker from Bank of America. This was followed by breakfast and a brief session on careers and opportunities in the financial services industry.