(Left-right) Dean Keep presents the 1st Place prize of $12,000 to M&S Guitars: James Seyffart, Alex Matteson, and Tim Pfenninger! 2nd Place went to Campus Corner Laundry and 3rd Place to SurpriseMe at the Finale on April 3rd.
Mayo Business Plan Competition Info Session, Nov. 13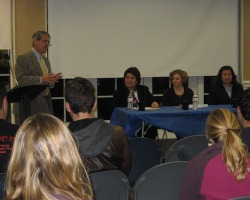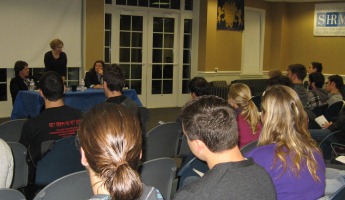 Above left, Dean Keep annunces the 2013 Mayo Business Plan Competition.
Pictured right, entrepreneurial panelists: Carla Fallone, Jacqui Town '08 and Chris Jones '90.
---
The Mayo Business Plan Competition premiered in 2012. Sixteen teams made up of 52 students from departments across campus were mentored through a series of elimination rounds during this four-month competition. Read more in TCNJ Magazine; the 2012 competition details can be viewed here: http://business.tcnj.edu/events/mayo-competition/