Join us in congratulating over 350 graduates of the School of Business, as we welcome them to our alumni ranks. The 2015 recipient of the Neil Gaston Student Achievement Award was Jenna Wilson, an Accounting major with a minor in Women's and Gender Studies. View the full list of 2015 School of Business Commencement Award winners here.
Continuing a tradition started by Dean Keep in 2010, faculty & staff invite a student speaker to represent the graduating class at the School of Business Commencement Program. The 2015 speaker was Matthew Scapardine, marketing major and co-founder of the TCNJ Chapter of Net Impact.
View the full-length Commencement video here.
View photos of the TCNJ School of Business Class of 2015:
[nggallery id=27]
---
Beta Gamma Sigma Faculty Awards
In addition, officers of Beta Gamma Sigma – the honor society for AACSB accredited business schools – presented the fifth annual BGS Faculty Awards which recognize professors who have made a profound impact on the student body, as voted on by the entire senior class in the School of Business. The 2015 School of Business Faculty Awards were announced by Kendra Walker (below, left – finance) and Wambui Gilbert (right – international business).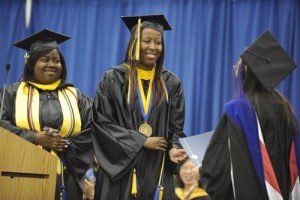 The Award for Teaching Style that Created the Most Engaging Learning Environment was presented to Dr. Pamela Kravitz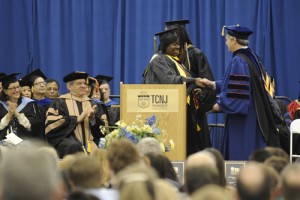 The Award for Advising and Mentorship, Affecting Personal Growth & Academic Development was presented to Dr. John McCarty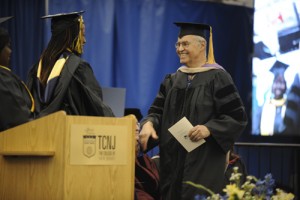 The Award for Passion for Business ~ Most Inspirational was presented to Dr. Alfred Pelham 
---
View the 2015 TCNJ School of Business Commencement video: