The TCNJ Pi Sigma Epsilon chapter competed in various competitions at the National Convention held in Houston, TX from April 14th to April 18th. There are a total of 67 other chapters across the United States, and the Zeta Zeta Chapter of TCNJ placed 2nd out of the top 5 finalists for recognition as Top Silver Chapter. Chapters are categorized based on several factors including membership size and scale of activities. Other finalists in the Silver bracket included Virginia Tech., Bryant University, University of Wisconsin-Eau Claire, and first place Louisiana State.
Each year at the National Convention, chapters have the opportunity to participate in the Pro-Am Sell-A-Thon Competition, which is a simulated sales role-play situation. This year the Pro-Am-Sell-A-Thon had two role-play components however, only the finalists from the first round were able to advance to the second. TCNJ had 19 participants in the Pro-Am Sell-A-Thon Competition. TCNJ along with University of Wisconsin-Eau Claire had the most finalists in this Pro-Am. TCNJ had five out of the top 26 finalists of the competition comprised of 100 students from across the nation. TCNJ finalists were Kyle Smith, Matt Napoli, Nicole Fucci, Emmett Slobodzian and Alyssa Freitas. Of the top 26 finalists, Matt Napoli and Emmett Slobodzian ranked in the top ten. Faculty Advisor, Dr. Alfred Pelham along with other school advisors and PSE sponsors, participated in the Pro-Am Sell-A-Thon Competition as a buyer. The buyers acted as the VP of Marketing and Customer Relations of a food distributor whom students sold Cutco Cutlery in the sales role-play.
Notable Honors and Achievements:
Emmett Slobodzian achieved 2nd place overall for the 2015-year in the Pro-Am Sell-A-Thon sales role-play competition from among 100 competitors.
Emmett Slobodzian and Phil Nichilo achieved 2nd place for the Top Project Manager Award, while Miami University came in first place. Other finalist teams came from the University of Connecticut, University of Georgia, University of North Carolina-Wilmington, and the University of Northern Iowa.
Alyssa Freitas received a Future Leaders Scholarship recognizing her potential as a future leader of Pi Sigma Epsilon.
Dr. Pelham was named Top Faculty Advisor of the Year, receiving a $1000 research award.
Chris Minitelli was one of five finalists for Top Salesperson Award across all chapters for the 2015-year. Five TCNJ students competed in the Marketing Case Competition, devising social media and promotional strategies for the revitalization of a Pepsi marketing campaign in Canada. Participants included Jill Troiano, Brittany Mashel, Sara Oliff, Connor Hubler, and Shavelly Valencia. Faculty Advisor, Dr. Pelham, also participated as a judge in this competition. Five TCNJ students competed in the "Boss Games" a business strategy simulation, testing student skills in planning a startup of a company. The students were Sarah Brown (president of the TCNJ Pi Sigma Epsilon chapter), Jill Troiano, Erin Crowley, Chris Minitelli and Kyle Smith.
TCNJ Zeta Zeta Chapter Participants:
Seniors 
Juniors 
Sophomores 
Freshman
Nicole Fucci
Finance
Sarah Brown
Finance
Alyssa Freitas
Management
Christina Mazzeo
Marketing
Jessica Gorham
Psychology
Erin Crowley
Finance
Connor Hubler
Marketing
Christopher Minitelli
History/Communications
Sara Oliff
Marketing
Brittany Mashel
Marketing
Matthew Napoli
Marketing
David Paretti
Marketing
Chrystalla Socratous
Interdisciplinary Business
Phil Nichilo
Interdisciplinary Business
Jill Troiano
Marketing
Rachael Scott
Marketing
Shavelly Valencia
Accounting
Emmett Slobodzian
Management
Kyle Smith
Management
---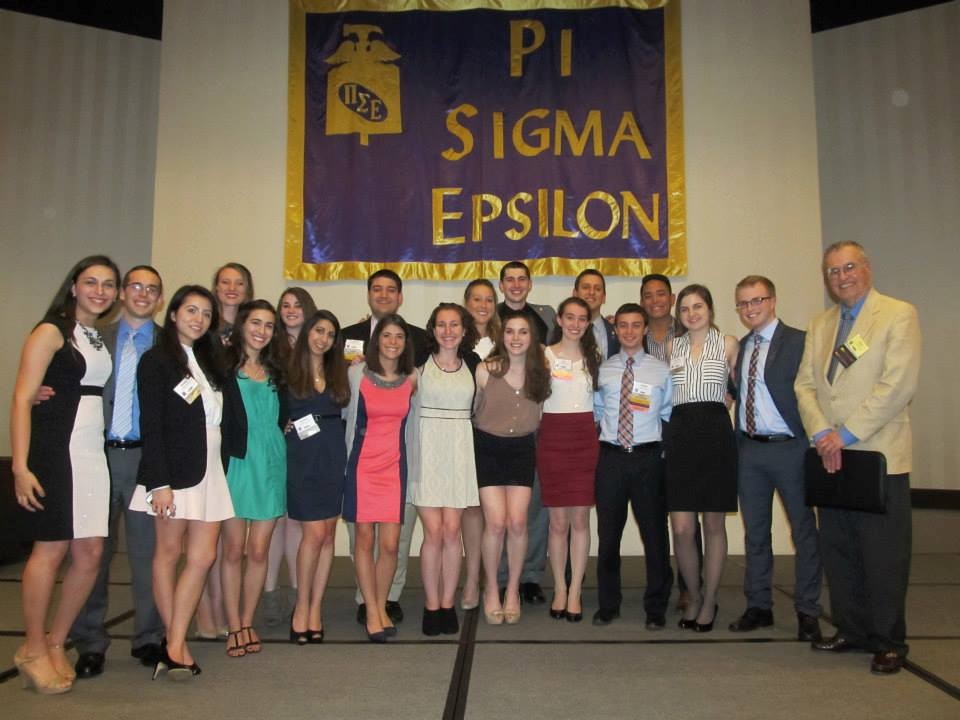 TCNJ Pi Sigma Epsilon Zeta Zeta at the 2015 National Convention