On March 24th, our monthly 3rd Thursday Program was turned over to current TCNJ Business seniors who shared their stories of successful internships!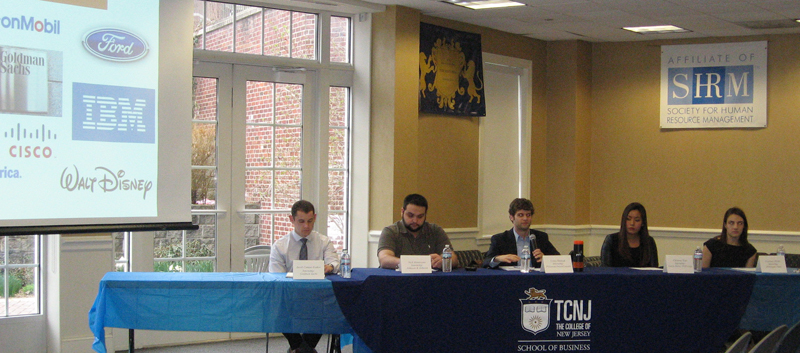 Moderator: Assistant Dean Tammy Lynn Dieterich
Panelists (above, l-r):
Jacob Camin-Esakov, Economics /Finance, internship at Goldman Sachs
Nick Montesano, Management, internship at Johnson & Johnson
Corey Shubiak, Accounting, internship at PreicewaterhouseCoopers
Christine Tran, Marketing, internship at Calvin Klein/PVH Corp.
Courtney Wirths, Finance, internship at JP Morgan
---
The majority of the panel found their internships through LionsLink. However, Jacob stressed that networking can also open the door to opportunity. Goldman Sachs doesn't typically recruit at TCNJ but a classmate of Jacob's from the Fed Challenge team had a connection that led to his own position at Goldman, and ultimately a recommendation for Jacob.
Not all internships follow a traditional interview process either. Nick talked about Johnson & Johnson's protocol starting with online interviews, moving to a second round via SKYPE. For full-time positions, the process culminates in a two-day interview with about 30 candidates participating in team exercises. Most of the schools JnJ recruits from are coop schools, but Nick was comfortable he was as well prepared as the non-TCNJ candidates.
PwC, Corey said, started with 1st round interviews on campus with selected students invited to a Super Day Session. Thirty candidates met on-site with an HR team, moving into a series of 5 personal interviews, all with a different theme. He attested that the LionsLink process is extremely well streamlined for accounting firms.
Christine and Courtney both did their interviews in NYC, and shared many tips about negotiating budgetary, housing, and transit issues. They likened Penn Station to the Hunger Games set, but there are numerous apps that can help you pull together a quick Plan B option like City Mapper, Embark, and Google Maps. They also shared a bit about the other interns they worked along-side. Christine was the only TCNJ intern in her area at PVH, with most coming from FIT and other fashion programs. She felt  she was definitely better trained as a professional by comparison. According to Courtney, as the 1st internship class at JP Morgan from TCNJ, her group felt they were setting the bar. All 10 from TCNJ received job offers (unlike some of their counterparts.)
The panel also discussed:
fitting internships and co-ops into the 4 year plan – it can be done
how to 'read' your manager and adapt to his/her style and expectations
the surprising level of responsibility and autonomy they experienced
how efficient they could actually be with time management
Some of the biggest differences between the classroom and reality include:
the reliance on Data Analytics
interacting with VPs, COOs, etc. with respect and an awareness of not wasting their time
the value of teamwork and accountability
and finally…… cramming last minute does NOT fly!