Personal finance was the topic at the final Third Thursday of the spring semester, April 20, 2017. The panel discussion, moderated by Peter Simons '98, focused on four areas of personal finance: real estate, investing, group benefits and insurance, and debt management and digital security. The panelists were:
Dante Germano, Chief Operating Officer, Nexus Properties, Dean's Advisory Council
Bryan Kuderna '09, Certified Financial Planner, Kuderna Financial Team, Best-Selling Author of "Millennial Millionaire"
Ken Murphy '13, Financial Advisor, Northwestern Mutual
Jennifer M. Silvestrov '03, CFE, Vice President, Fraud Operations Mgr II, TD Bank
Real Estate Planning
Dante Germano overviewed millennial preferences in the current real estate market. While millennials (ages 21-38 in 2016) are showing a unique interest in smaller spaces and mobility, according to Germano, they still want to own their own homes. He went on to discuss the advantages and disadvantages of both renting and owning, highlighting mobility and fewer responsibilities as advantages of renting, and financial benefits and lifestyle flexibility as the perks of owning a home.
Debt Management and Digital Security
Managing a budget and minimizing debt are crucial for the new graduate. According to Jennifer Silvestrov, effectively balancing a budget requires knowing your net income, benefit/retirement deductions, current amount of your debt—both revolving (credit cards) and installment (student/car loans)—and how much you are spending on social activities. Also be mindful of your credit purchases, Silvestrov advised, making sure to always pay on time (in full is best) and monitor credit through a free annual credit report.
Silvestrov also discussed protecting your money and identity in the digital world, touching on four ways through which a fraudster can rip you off and what you can do to stay vigilant.
Computer hacking: Anti-virus software is key. Change passwords often.
Online security breaches: Do not save your credit card information on websites!
Skimming and counterfeiting cards: Use EMV/chip card technology. Use wallets, purses, and briefcases with RFID blocking technology.
Identity theft: Limit your digital footprint, especially on social engineering sites like LinkedIn. Don't keep your social security card in your wallet.
Retirement/Investment Outlook

Bryan Kuderna told the audience that there are three legs to retirement–savings, pensions, and social security. Unfortunately, they are not in a stable condition in 2017. For example, Kuderna explained how pensions no longer hold the weight they once did due to sinking interest rates that put too much risk on employers. And the promise of Social Security, once a guarantee, is now unpredictable. Kuderna emphasized the importance of saving as a way to control your own finances in a time full of unknowns.
 Kuderna continued by reviewing the various risks with retirement planning. 
Longevity risk
Investment risk
Sequence of return risk
Inflation/deflation risk
Withdrawal rate risk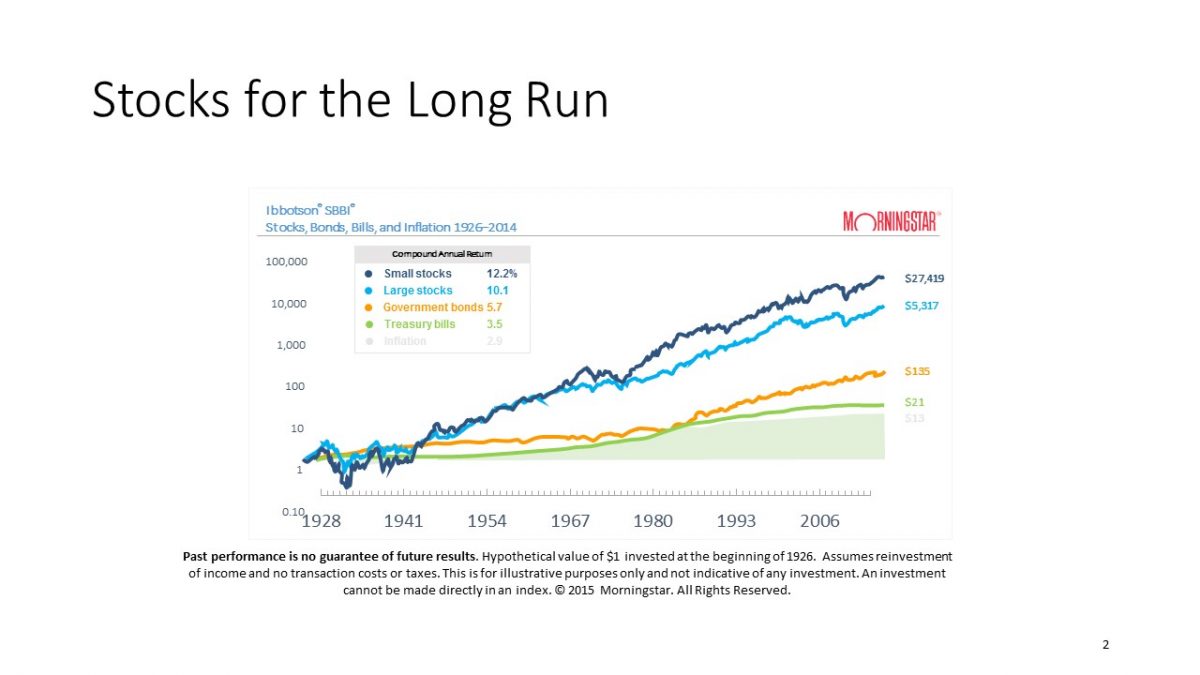 The above graph illustrates the hypothetical growth of inflation and a $1 investment in four traditional asset classes over the time period January 1, 1926, through December 31, 2014. Kuderna explained that as illustrated in the image, fixed-income investments provided only a fraction of the growth provided by stocks. Higher returns gained from stocks are associated with much greater risk, which is proven by the fluctuation of the graph lines above. "Investment can play a huge part in your retirement planning process, but you truly have to be in it for the long term," said Kuderna.
Buying Insurance
According to Ken Murphy, the sooner students or recent graduates start thinking about life insurance and overall financial security, the better. Graduates struggle to manage student loan debt, therefore, students end up applying for credit cards thinking they will raise credit scores. However, Murphy stated that opening credit cards ends up hurting students more because they tend to not pay them off on a schedule. He said that paying back a loan, like a student loan, will raise a credit score more. 
Murphy discussed various group and personal insurance options with the audience:
Life Insurance
Short-term Disability 
Long-term Disability
Vision 
Dental
Health
Life insurance is important for asset preservation, business planning, and most of all, surviving family members who rely on another's income. Most employers offer low-cost or free life insurance. Murphy encouraged students to take advantage.
The first Third Thursday program of the fall 2017 semester will be held September 21 in the Business Building Lounge. The School of Business would like to thank our expert alumni for participating in these programs throughout the year. If you would like to participate in a panel discussion, provide a topic suggestion, or give general feedback, please contact communications specialist, Nicole Beagin at beaginn@tcnj.edu.