This month, members of TCNJ's American Marketing Association attended Advertising Week in New York City. The students attended event sessions at venues located throughout Times Square, all led by industry leaders. Below are highlights from their attendee experience.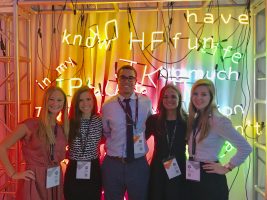 Kaelyn DiGiamarino '18
Advertising Week was impactful in ways that words cannot fully describe. One of the themes of the conference was, "Great minds think unalike." This week has changed my perception of marketing and taught us so much about the power of data and technology, branding, and creativity.
We learned about building brands in a world where mobile is everywhere. A world where mobile is with you at your best and worst moments, and where mobile has changed not just our minds, but also our brains. Andrew Keller, the Facebook Global Creative Director, noted that it only takes 13 milliseconds to identify an image and process an emotional response to it. But the average person thumbs through 300 feet of content on their screen every day, a measurement that equals the size of the Statue of Liberty. The challenge is to bring your mobile message to life so that it stands out in a compelling way.
Numerous speakers referenced the importance of creating a company that is transparent and authentic. There needs to be depth and rationality to brands; a marketing veil is no longer enough. Details and specificity, and a clear definition of your why and your purpose, creates authenticity.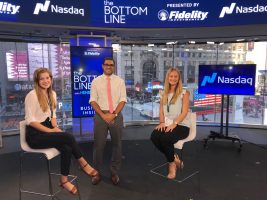 Matthew Winston Marmolejos '18
This experience was one of the best ones during my entire stay at college. The presentations from the likes of Starbucks CEO Howard Schultz, co-founder and CEO of Warby Parker, Neil Blumenthal, and Facebook's David Fisher were obscenely amazing and self-enriching to attend. I recommend this trip be taken every single year by marketing students. I cannot express how much this experience has opened my eyes to the marketing industry as well as bettering myself as a person. This trip was absolutely phenomenal, and I am very grateful to The College of New Jersey for giving me the opportunity to attend.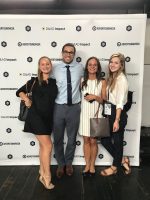 Taylor Nesnay '18
Consumers are more engaged and curious than ever, meaning that every purchase has the opportunity to be high consideration. This creates higher expectations for how brands engage with customers.
Millennials, in particular, are looking for companies to take a concrete stand on divisive issues. Do not let your fear of controversy hold you back from your company's values and ethics.
Howard Schultz, CEO of Starbucks, said, "our purpose is not to just make money…we are a financially-driven performance-based company operating through the lens of humanity".