Joann S. Lublin, management news editor for The Wall Street Journal will visit TCNJ on November 30. She will be addressing topics on which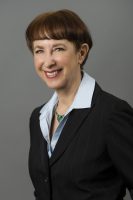 she reports regularly, such as corporate governance, executive pay, and more. She will also share insights from her recently published book, Earning It: Hard-Won Lessons from Trailblazing Women at the Top of the Business World.
Starting as one of the first female reporters at The Wall Street Journal, Lublin faced many obstacles during her career. Nearly two-thirds of the 52 women interviewed for her book are experienced public company CEOs. Many overcame professional challenges, and their experiences offer powerful lessons about forging success as a woman in the workplace.
This event is part of the School of Business' Business Leaders Talk series. It will take place 6:00-8:00 p.m. in the Library Auditorium. Pre-registration is required here. Email communications specialist, Nicole Beagin, with questions. This event is open to all TCNJ faculty, staff, and students. It is co-sponsored by the School of Business student organizations, The Bull, Bear & Lion, and Women in Business.