On April 27, the Financial Management Association (FMA) traveled to Ne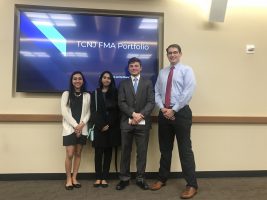 w York City to participate in the 2018 Intercollegiate Investment Competition Closing Ceremonies at Fordham University.
"The closing ceremonies was a great experience as we got to present our findings that made our portfolio so successful as well as talk to other teams and see the strategies they chose to use during the competition," said Jonathan Kane, FMA president and portfolio manager. We look forward to competing again next year and in the future."
.