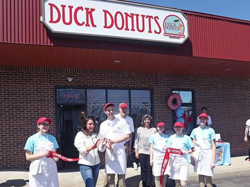 Matt Erickson, a 2014 management graduate recently opened the first Duck Donuts location in New Jersey and became the youngest owner in the upstart franchise's network. Read about his entrepreneurial adventures, crediting the TCNJ School of Business and particularly Professor Al Pelham, here on NJ.com.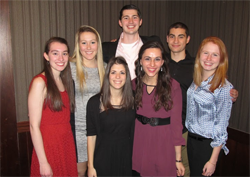 Pi Sigma Epsilon brothers recently held a reunion for former members, some of whom are shown at left. Pi Sigma Epsilon is the only national, co-ed, professional fraternal organization in sales, marketing, and management.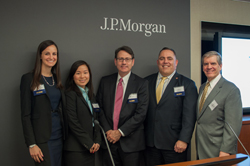 On March 23rd, TCNJ Business students were invited to JP Morgan's Manhattan Headquarters for the 5th consecutive year, for a finance forum and networking night with alumni. The program was moderated by Mr. Andrew Holzheimer '82, Executive Director, CTO Program Manager, JPMorgan Chase — shown here with panelists (l-r) Erica Dardaganis '07, Anne Phan '06, Richard Latella '77, Mr. Holzheimer and Dean Keep. Over 30 alumni were there to network with 80+ TCNJ students.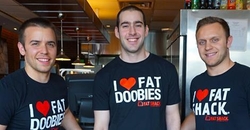 Business alumnus Tom Armenti '09 started the Fat Shack back in 2010. This New Jersey-based late-night restaurant chain opened its first Denver location near DU last month and plans to open two more stores in Thornton and Greeley this year. Fat Shack's concept brings the New Jersey staple "fat sandwiches" to a niche market: college students. Read more in BusinessDen.com.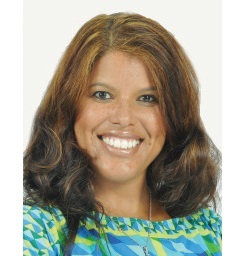 "As vice president and chief operating officer, Brenda Robles-Cooke '91 oversees every aspect of [Delaware Valley Community Health's] day-to-day operations, including capital projects, insurances, grant writing, front desk registration, and housekeeping…. In 2012, the Delaware Valley Most Influential Latinos Foundation recognized Robles-Cooke as one of the region's most influential Latino leaders. The award was in recognition of her work at DVCH—the organization is the largest healthcare provider for North Philadelphia's Latino community—as well as her volunteer efforts with Latina girls and young women." Read more by Molly Petrilla in TCNJ Magazine.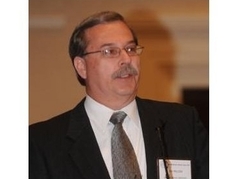 Joe Melczer '75 — Director of Software and Systems Solutions Division for ACET, Inc. in Maryland — recently joined several Pi Sigma Epsilon brothers for a mentoring meet-up over lunch, sharing expertise from his 30+ year career in sales/business development. Matt Napoli (senior, marketing) remarked: "Meeting with Joe was a great experience for me. In my time at TCNJ, I have developed a strong interest in sales, and to be able to hear about the experiences from a successful alumnus only made my interest stronger. I am excited to continue to talk to and learn from Joe as I begin my career in sales."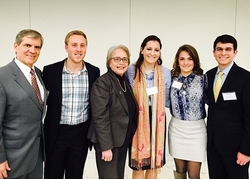 Featured at a recent alumni reception in NYC (l-r): Dean Bill Keep; Kyle Magliaro '13; President Gitenstein; Josephine D'Amico '14; Christina Kopka '13; and Charles (CJ) Gutch '13. The four alumni are all former Student Government executive board members who remain committed to supporting TCNJ.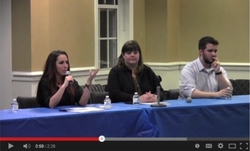 3rd Wednesday: Your Public Face via Social Media – On Feb. 18th our panelists were: Rebecca Machinga '92 and Sarah Cirelli, WithumSmith+Brown; Kevin Coughlin '12, Tumblr; and Patti Singer, owner of Follow Me Social Media. View highlights on this YouTube video, filmed by economics senior Billy LaPorta. Read "Impact of Social Media on Students" by Chelsea LoCascio in The Signal.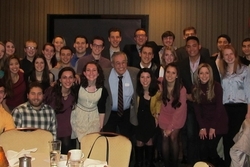 TCNJ Pi Sigma Epsilon recently held its first alumni networking event at Salt Creek Grille in Princeton. An event like this demonstrates that the benefits of being a part of Pi Sigma Epsilon extend past the academic years at TCNJ and into future careers. As stated by Matt Nugent '11, "PSE's slogan is "Your Business Advantage for Life" and we are really living it out." Read more here.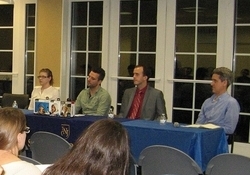 Alumni Entrepreneurs helped launch the 2015 Mayo Business Plan Competition with a 3rd Wednesday program on Oct. 15th, moderated by Chris Jones '90. Panelist included (l-r): Jacqui Town '08, Chris Hindley '04, Greg Fitzgerald '14 and Brian Murray '98. The program was sponsored by the Dean's Advisory Council and co-sponsored by Net Impact. Read more here.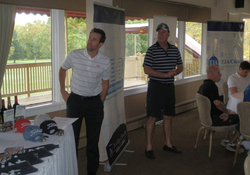 The 4th Annual TCNJ Business Alumni Golf Outing was presented by WithumSmith+Brown, on Oct. 1st. Now in our 4th year and at the beautiful Hopewell Valley Golf Club, it continues to grow in popularity. The event is planned entirely by alumni of the School of Business, with the much appreciated support of TCNJ's office of Alumni Affairs.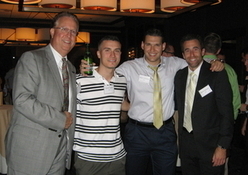 In September, 2014, the School of Business and our Alumni Chapter hosted another very successful reunion meet-up at the Princeton Salt Creek Grille with over 100 people turning out. We'd especially like to thank out-going Chapter President Ken Baumann '82 (at left), for sponsoring the drinks. Ken has served as the Chapter President for 4 years, developing many new initiatives and relationships. He will continue his involvement with the College as VP of the TCNJ Alumni Association.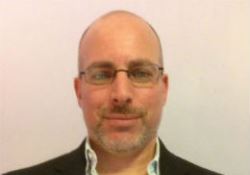 Marc Baskin (Accounting, 1993) is the co-founder of inControl Ads, a technology platform that puts consumers in control of their advertising experiences across all devices and screens. He has helped several start-ups go from just a few people, to public companies. Marc is a frequent contributor to The-MAKEGOOD.com. Read his article "The Mobile App that Made My Day" from June 4, 2014.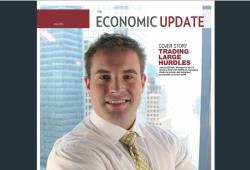 Sascha Szyfman '11, Manager at the FX Options Desk with FXDD was featured in the May/June 2014 issue of Economic Update, on managing funds for private and individual worldwide customers. He returned to campus last fall as a panelist on our annual GoGlobal Alumni Panel.