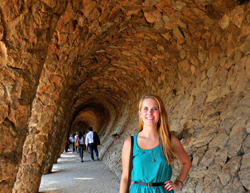 During the summer of 2014, marketing junior Christina Madsen interned at ELSK, a startup fashion and design label located in the small coastal town of Klitmøller, Denmark. Christina enjoyed working for a brand that not only values quality and sustainability, but also prides itself in creating designs anchored in the rich heritage of Northern Denmark, where her family is originally from. She credits her positive experience to working at a startup, which allowed her to work on a wide array of projects, ranging from styling photo shoots to building the brand's first pop-up shop to producing the blog content and employing guerrilla marketing techniques. After completing her internship in Denmark, Christina traveled to Barcelona, Spain, where she spent the fall semester studying International Business at Universitat Pompeu Fabra and lived with a local family to enhance her Spanish fluency.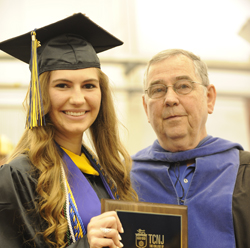 Congratulations to the Class of 2015! Accounting major Jenna Wilson, shown here with Dr. Thomas Patrick, received the Dr. Neil Gaston Student Achievement Award at our May 21st Commencement Program. Neil Borad and Brennah Ross received the Dr. Daniel R. Hall Economics Awards and Matthew Scapardine, Co-founder of the TCNJ Chapter of Net Impact, was this year's student speaker. See more photos and video of the School of Business graduates and award recipients here.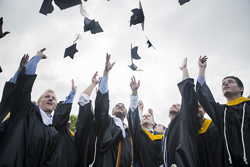 "So, what are you doing after graduation?" Hear from a sample of the Class of 2015 here. Christian Balevski (finance) is starting a solar energy technology company—Solar Divide—focusing on developing technologies to increase the efficiency and output of large-scale solar farms.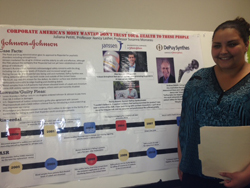 This year, more than 40 business students participated in the College's Eighteenth Annual Celebration of Student Achievement, via paper presentations and poster sessions. Management senior Juliana Petitt worked with Professors Nancy Lasher and Susanna Monseau on her presentation entitled, "Corporate America's Most Wanted: Don't Trust Your Health to These People."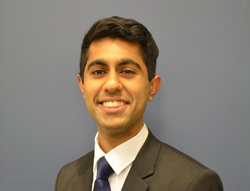 In April, Neil Nadpara, a seven year Economics / Medical student, was inducted into Phi Beta Kappa, the nation's oldest academic honor society founded in 1776. The College of New Jersey was one of six new chapters established by the Phi Beta Kappa Society in 2006 at the society's 41st Triennial Council in Atlanta. Fewer than 10 percent of the nation's higher education institutions are selected for Phi Beta Kappa membership. From New Jersey, only TCNJ, Princeton University, Drew University, and Rutgers University have earned this distinction. Read more here.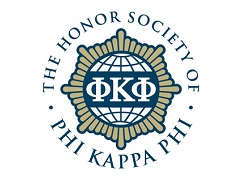 Fourteen Business students were inducted into the Honor Society of Phi Kappa Phi, at the College-wide ceremony on April 20th. Admission to Phi Kappa Phi is by invitation only and requires nomination and approval by the College chapter in accordance with the bylaws of both the chapter and the national Society. Both require superior scholarship and good character as criteria for membership. Read about the TCNJ Chapter here. Click here for this year's School of Business Inductees.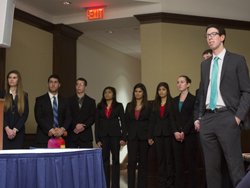 Finalists in the Mayo Business Plan Competition were, in 1st place: Tikka Roll – Mehak Aswani, Pauleena Pal, and Sheenal Parikh; 2nd: Thor Electric Longboards – Jamie Leroy, Ian Nolan and Jenna Wilson; and 3rd: ProjectSpotter – Jessica Gorham, Mathew Hellenbrecht, Patrick Kelly and Eric Sawyer. Read about this year's competition here.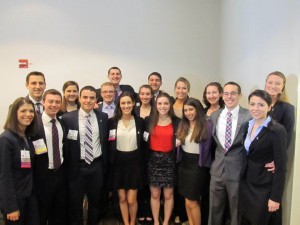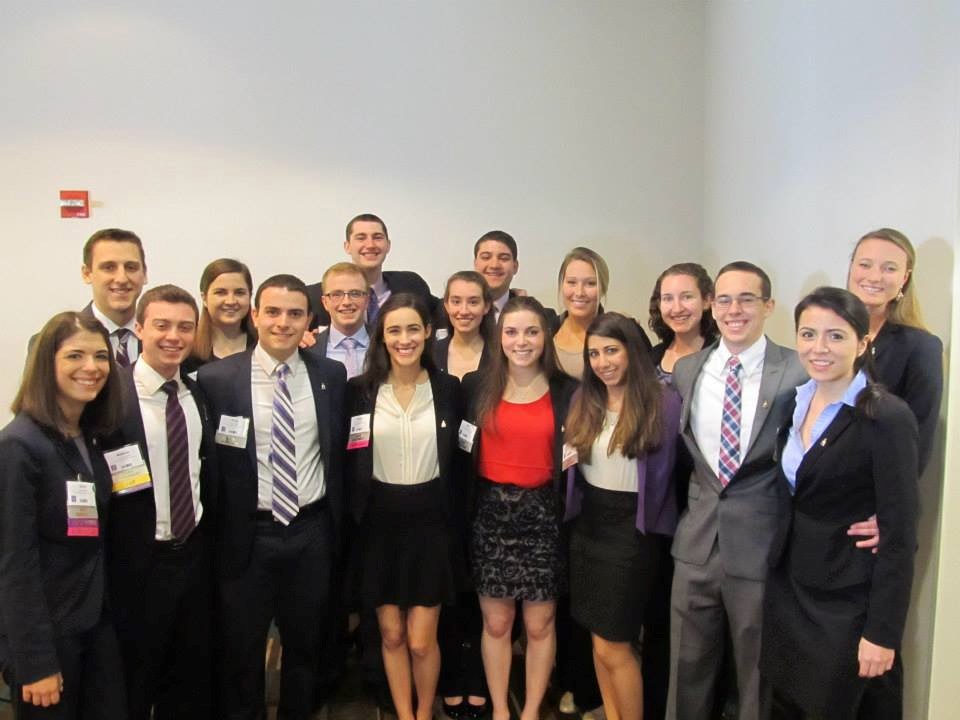 This spring, TCNJ's Pi Sigma Epsilon Zeta Zeta Chapter won numerous awards and Dr. Pelham was named Top Faculty Advisor of the Year, at the National Convention held in Houston, TX. The competition represented 67 chapters across the US and TCNJ placed 2nd out of the top 5 finalists for recognition as Top Silver Chapter. Finance junior Sarah Brown is president of the TCNJ Pi Sigma Epsilon chapter. See the full list of award recipients here.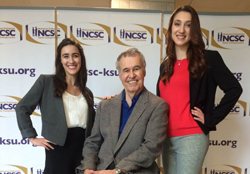 Alyssa Freitas (l), a current PSE member and finalist at the Pi Sigma Epsilon regional and national competitions, and Calea Stiles-Schatz (r), a former PSE member, were competitors at the National Collegiate Sales Competition at Kennesaw State University near Atlanta, in April. Alyssa is a sophomore management major/Professional Selling Minor and Calea is a junior Finance major. They were among 134 competitors from 68 universities. Each university selected their best two sales students to compete in a role play competition selling ADP payroll services to recruiter acting as a buyer. Both Alyssa and Calea came in fourth of seven students per room in the first round, which put them in the Wildcard round. Alyssa came in first in her room in the Wildcard round, which allowed her to move on to the quarter-final round, beating 90 other competitors. Alyssa and Calea participated in a great career fair, attended by forty one companies, including ADP, BD Medical, Cisco, J&J (spine medical devices), Hewlett Packard, Netsuite (customer relationship software), Lennox, Paycom, McAfee, UPS, and Xerox. They are shown here with PSE faculty advisor Dr. Al Pelham.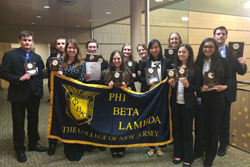 Members of TCNJ's Chapter of Phi Beta Lambda are shown at the 2015 State Leadership Conference, where they earned 15 awards including: 2nd Place Personal Finance and 2nd Place Business Presentation (Team) for President Amber Tuttman; 1st Place Financial Concepts and Outstanding Officer Award for Membership Director Chris Ferrari; and 1st Place Entrepreneurship Concepts, 2nd Place Business Presentation (Team), and Outstanding Member Award for VP Stephen Fabiano.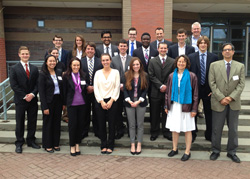 Since 1997, students in the Economics Department at TCNJ have presented their senior thesis research at the Omicron Delta Epsilon Undergraduate Business and Economics Conference. According to MaryJo Lambino (pictured front, 2nd from left), "The ODE Conference was a great opportunity to share what I have learned through my thesis project and get feedback from economics students and faculty from other schools. With such a wide variety of thesis topics presented at the conference, it was also very interesting to hear about the research that other students have conducted this year." Read more about this and the Eastern Economic Associations 41st Annual Conference here.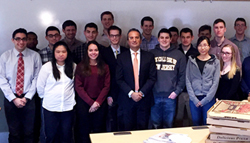 On Sunday, March 29th, the Financial Management Association hosted the Wall Street Immersion Program, an intensive 8.5 hour long program on financial modeling and valuation techniques, led by WSIP founder, Ashish Kohli, a seasoned investment banker, private equity, and accounting professional with over 20 years of transaction experience throughout the financial industry. By the end of the day, students were able to successfully create models similar to those used by investment bankers, management and strategy consultants, research analysts, and asset managers. They left with a greater knowledge of finance and accountancy, and a greater degree of clarity and confidence as the pursuit of employment amid an increasingly competitive industry continues.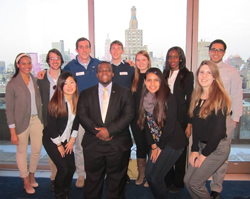 On February 20th, a group of students from TCNJ Net Impact went to the 5th annual Social Innovation Symposium at NYU. Students heard from keynote speakers, Jim Brett, President of West Elm and Kees Kruythoff, President of Unilever North America and many others. Students attended workshops where they gained skills to drive positive social and environmental change in the world with their careers. See the link to the conference here http://www.nyusis.com/.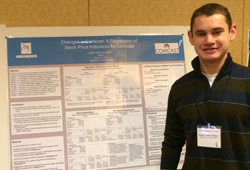 Jacob Camins-Esakov, a junior double major in finance and economics, presented an independently researched regression on Comcast stock price at the Northeast Regional Honors Conference (NRHC). The conference in Gettysburg PA had over 500 attendees and numerous colleges were represented. Jacob's attendance at the conference was sponsored by the TCNJ Honors Program.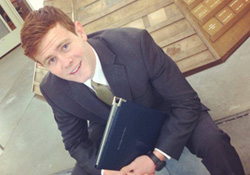 Senior Marketing Major Jack Virgie founded a TCNJ chapter of Skate for Change, where fellow skateboarders can do what they love, while making a difference in the process by providing care packages with food, toothbrushes, and other living essentials for homeless individuals in NYC. Visit his Gofundme page: http://www.gofundme.com/SFCNJ.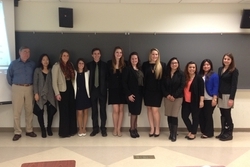 The winners of the 2015 JnJ Case Competition are shown with judges from TCNJ and Johnson & Johnson. Teams of 5-7 students were presented a business scenario and were requested to evaluate the information and provide a 20 minute presentation focused on Growth Strategy, Business Decisions (sales, marketing, pricing, packaging, and Credo based), Market Analysis (SWOT), Detailed Financial Metrics, and Presentation Style. The winning team received a $2,000 cash prize and will compete at Johnson and Johnson Headquarters on March 26 and 27 among eight other colleges and universities.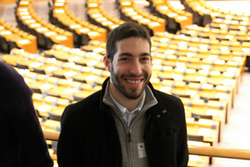 Laurence Hochman, a sophomore finance/international studies dual major, is studying at La Universidad de Alcalá, in Spain for the Spring 2015 semester. He recently travelled to Brussels, Belgium to attend a seminar at the European Union on activism, lobbying, and key political/social issues in the EU. The seminar was co-hosted by EUJS (European Union of Jewish Students,) DoJAS (Delegation of Jewish American Students,) and B'nai B'rith International. Read more here.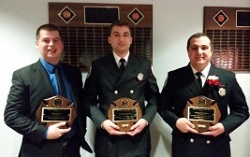 Anthony Dell'Aquila, a senior criminology major, Matthew Iannarone, a senior mechanical engineering major, and Michael Koons, a senior business administration major (l-r) are not only full-time students at the College but also volunteer firefighters for the Pennington Road Fire Company. Recently, the company chief, Steve Luck, honored the three with the Firefighter of the Year Award for their ability to balance their dedication to both school and firefighting. Read more by Colleen Murphy in The Signal.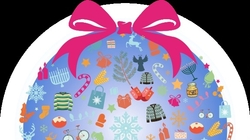 TCNJ Net Impact contributed to a College-wide collaboration on "Green Your Holidays" – a news story featuring environmentally savvy suggestions that can lessen the impact of the year-end holiday celebrations.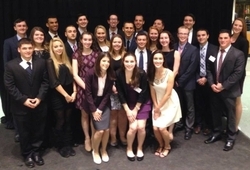 For the second year in a row the Pi Sigma Epsilon Zeta Zeta chapter swept the regional PSE competition which was held at Bryant University. The TCNJ chapter won 10 of 13 finalist places, competing with 50 students from Bryant, UCONN, and Rider University. Emmett Slobodzian (senior, management) won first, Chris Minitelli (senior, communications and history) won second. Other finalists were Rachael Scott (senior, marketing), Alyssa Freitas (sophomore, management), Connor Hubler (sophomore, marketing), Jess Gorham (senior, Industrial organizational psychology), Tyler Cranden (senior, marketing), Malcolm Bingham (senior, marketing), Kyle Smith (senior, management), and Matt Napoli (senior, marketing). Eric Sawyer (junior, marketing) was a finalist for the public speaking competition.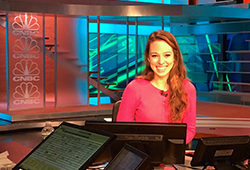 CNBC intern Olivia Michael is prepping for a future in news – the junior marketing major with a  journalism minor is interning at CNBC's assignment desk at NBC Universal. She's learning from some of the best, like Jim Cramer, host of CNBC's Mad Money and Sue Herera, co-anchor of Power Lunch. Read more here.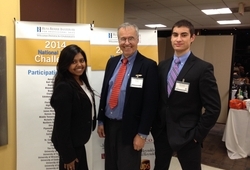 Finance majors Sabrina Alex (left – senior) and James Tomasullo (right – junior) are shown with advisor Dr. Al Pelham at the November, 2014 William Patterson Sales Competition. They competed in a sales role play competition selling ADP services and in an elevator speech competition. TCNJ ranked 21st of 40 universities, ahead of universities with large sales programs such as Ball State, Florida State, Ohio University, and University of Toledo. Job fair recruiters included: ADP, J&J Ethicon, and Lennox.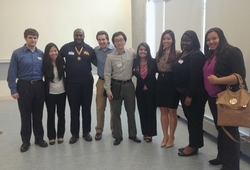 TCNJ Alpha Kappa Psi brothers recently attended Alpha Kappa Psi's Annual Officer Leadership Training at Stony Brook University. They are shown here with Atlantic Metro Regional Director Naneen Christopher (l-r): Corey Shubiak, Kathleen Lok, Mr. Christopher, David Plishka, Ryan Ng, Archie Kothari, Christine Tran, Kendra Walker and Curyn Bellfield.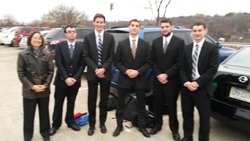 Five of the six members of TCNJ's 2014 Fed Challenge team are shown here with advisor Dr. Michele Naples (at left, followed by: Ben Kramskoi, Kevin Boise, James Tomasullo, Cody Nelson and Jacob Camins-Esakov. Christina Roach is not pictured. Congratulations are in order – they earned honorable mention at this year's challenge sponsored by the Federal Reserve Bank of Philadelphia, and held at Lafayette College.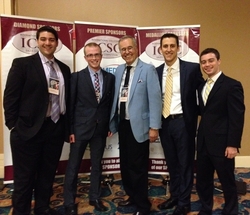 From the left: Chris Minitelli, Kyle Smith, Professor Al Pelham (advisor), Emmet Slobodzian, and Matt Napoli are shown at the FSU International Collegiate Sales Competition this fall. This team of seniors (all members of Pi Sigma Epsilon) ranked 4th out of 36 participating schools. Of 84 competitors in the role-play competitions, Chris Minitelli ranked better than 77 and Kyle Smith ranked ahead of 69.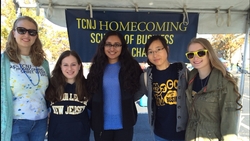 Members of Phi Beta Lambda who volunteered (along with Alpha Kappa Psi) are shown here, at the School of Business Alumni Chapter Homecoming tent! View more photos from Homecoming and information about Alumni Reunion Weekend in April, here.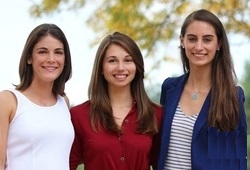 After their separate summer internships at PVH companies, rising seniors Tracy Kaplan (marketing), Jenna Nerger (interdisciplinary business major) and Stephanie Menakis (management and psychology) teamed up to pitch their ideas about increasing awareness of PVH brands to millennials —- to some of PVH's top management, including CEO of the Tommy Hilfiger brand, Gary Sheinbaum. Read more here.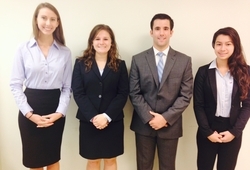 Members of team Prettywise Consultants — winners of the PwC Tax Challenge at TCNJ — are shown (left-right): Bridget Pfizenmayer, Julie Ciak, Chris Ferrari, and Eleni Anagnostou. Their presentation has been submitted for consideration in the final round at the national level.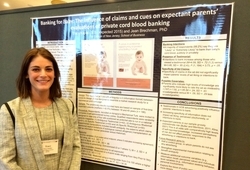 Tracy Kaplan, marketing senior, has been working with Dr. Jean Brechman to better understand how subtle manipulations in marketing tactics can influence expectant parents' attitudes toward umbilical cord blood banking. Most recently, they presented preliminary data at the American Marketing Association's Public Policy conference, Boston June 2014.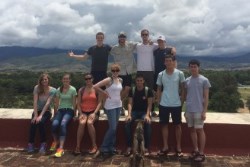 Rising Economics senior Davis Craig spent the summer of 2014 in Oaxaca, Mexico, taking 30 hours of classes a week, living with a host family, and attending cultural activities almost everyday.
---